Keystone jack
---
Otscable is Keystone Jack connectors manufacturer in China, offers high quality keystone jack with factory price. Call today to request a free quote.
Your optimal network jack solution for innovatively future-proofing your 10-Gigabit Ethernet systems at an affordable price, lowest MOQ and most reliable connectivity
Keystone jacks are essential components of a LAN and Ethernet wiring system and datacom system. It mounts several low-voltage electrical components such as optical connectors and RJ11 or RJ45 connectors. 
Also known as an RJ45 female connector, a keystone jack is what you need when mounting 23 to 24 AWG Ethernet cables in an easy snap-in method to a patch panel, surface mount box or wall plate. Hence, an RJ45 jack should essentially serve with secure, reliable connectivity and unwavered performance for large and speedy data transfers.
What We Offer
OTSCABLE is your ideal keystone jack manufacturer and supplier when price matters most. As China's leading communication cable manufacturer, we offer high quality and cheap bulk keystone jacks designed and manufactured in our own factory. 
Essentially made of high-impact, fire-resistant plastic and gold-plated contacts, our keystone jacks meet and exceed Cat 5e and Cat 6 requirements with the ANSI/TIA/EIA 568-C.2 standard.
At a glance, you'll find our keystone jacks very convenient to use and install for the following reasons:
All punch down keystone jacks meets and exceeds industry standards.
Made for 22 to 26 AWG stranded and solid wire LAN cables.
110 or Krone tools can be used.
Gold contacts provide high performance data transfers.
Shielded and unshielded Cat5e and Cat6 keystone jack options.
Cat5e UTP Keystone Jack
This unshielded twisted pair (UTP) Cat5e keystone jack works best with our Cat5e UTP cables, commonly for indoor Ethernet. The Cat5e jack has a two color code wiring diagram for both T568A/B wiring pattern. It can be used for any home Ethernet installation or data centers with Cat5e Ethernet cables and accessories.
Cat5e FTP Keystone Jack
The foiled twisted pair (FTP) Cat5e network jack is the best fit for Cat5e FTP cables transmitting 100MHz speed for fast data transfers. With two color code options to choose from, 568-A or 568-B, you can quickly match your existing installation with our standard keystone jack design. 
Cat6 UTP Keystone Jack
Terminated ideally with our Cat6 UTP cable, our Cat6 UTP jack is constructed for high performance data transmission speed of up to 1000 Mbps at 250 MHz. With our press-fit technology, termination is better simplified and easier, eliminating lose installations and unreliable data transfers.
Cat6 FTP Keystone Jack
Connected ideally with our Cat6 FTP cables, the Cat6 FTP jack can accommodate 250 MHz frequencies for better transmission and data speeds up to 1000 Mbps. This Cat6 keystone jack is also built in the 8P8C configuration allowing you to easily terminate the jack on a patch panel using a standard 110 punch down tool.
Cat6A UTP Keystone Jack
The unshielded twisted pair (UTP) Cat6A keystone jack works best with our Cat6A UTP cables, used for 100Base-T4, 100 Base-TX, 100Base-VG-Anylan, 1000base-T and telephone communications media. The Cat6A jack has a two color code wiring diagram for both T568A/B wiring pattern. It can be used for indoor Ethernet installation or data centers with Cat6A Ethernet cables and accessories.
Cat6A FTP Keystone Jack
The foiled twisted pair (FTP) Cat6A network jack is the best fit for shielded Cat6A cables used where a high amount of shielding from EMI is required. This can be in military equipment, hospital or medical applications, heavy equipment machinery, generators and transformers. 
This network jack can accommodate data transfers of up to 500 MHz speed. It has two color code options: 568-A and 568-B. You can conveniently match your existing installation with our standard keystone jack design. 
Features
Option is available for using impact tool or toolless keystone jack with right angle (90 degree) termination.
Can be conveniently terminated with standard patch panels, surface mount box or wall plates bearing standard keystone ports.
High performance connectivity with its gold plated contacts and quick snap-in retainer for secure connection.
Fits 22 to 26 AWG Category cables.
High punching duration of up to ≥250 times.
High insertion duration ≥750 times.
Accessory Options
To complete your network installation, we also carry the following solutions to go with our keystone jacks: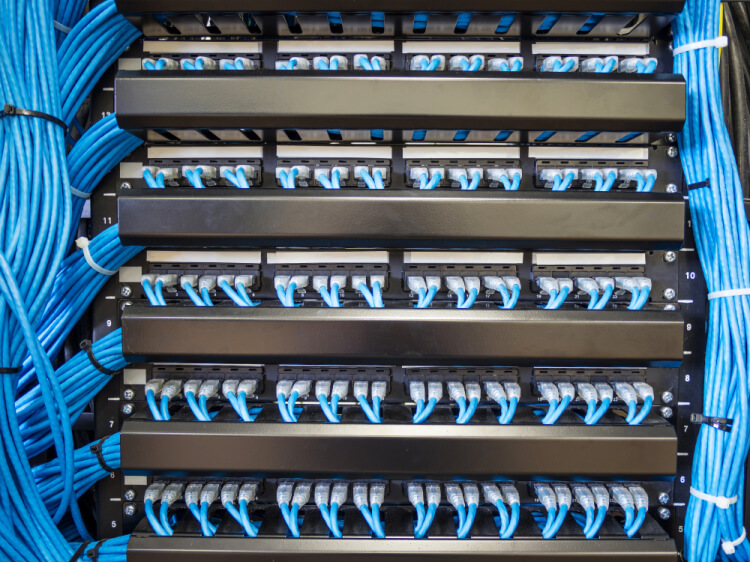 Applications
Ideal for offices, data centers, central room, equipment facilities, etc.CATV Network
LAN and Ethernet applications
Horizontal cabling or Structured cabling transmissions for data ,voice, video, etc.
Applied for Cat5e and D Classes; Cat6/Cat6A and F Classes
Multi-user communication outlet
Manufacturing Process and Technique
With our company's proven experience in mass producing several types of communication cable and accessories, our in-house manufacturing techniques provides customers with the best keystone jacks they could ever find.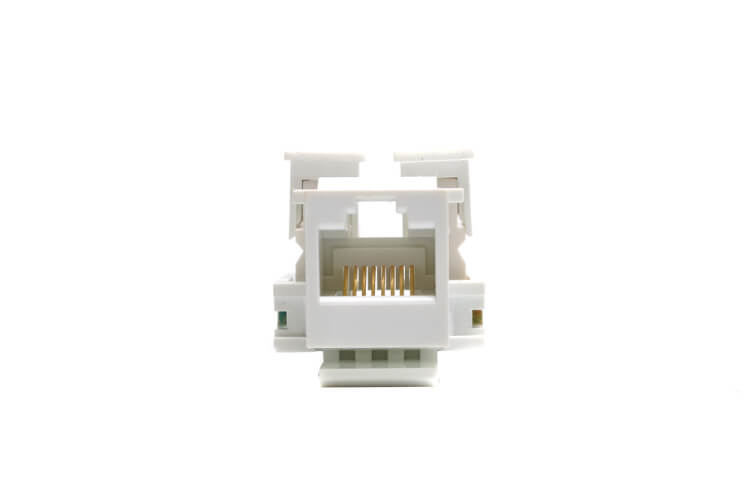 Otscable's Press Fit Technology for Keystone Jack Production
Otscable use Press-Fit technology for manufacturing internal connections for keystone jack production. Press-fit technology is not only a proven technique in providing superior connectivity, but also enables solderless, high-quality and lead-free terminations. This makes your Ethernet cabling system installations safer and more reliable with less wear.
Press-Fit technology for keystone jacks and patch panels also eliminate quality issues like cracks, cold soldering joints and dents. This maximizes the potential of the gold contacts to perform even at very high frequencies and further eliminate crosstalk.
With OTSCABLE's press fit technology for internal pcb component production, we ensure an eco-friendly and reliable solution in manufacturing our keystone jacks and patch panels.
Quality Control
Because we place a high priority in our quality control methods, all our keystone jacks are ETL compliant and UL listed, bearing CE markings. We also meet all the requirements for ANSI/TIA-568 C.2.
Our manufacturing methods follow stringent compliance with environmental standards and international policies. Furthermore, since we do not use solder for our press-fit technology for keystone jacks, no lead (Pb) is emitted. This makes the majority of our connections dust-free, non-toxic and reliable, meeting RoHS and LSZH standards.
Benefits
#1 Specialized manufacturing techniques with state-of-the art machineries
With our specialized manufacturing process for keystone modular jacks, we guarantee more reliable and better quality of products. Incorporating a press-fit production technology assures stable connectivity as there's no solder required between the PCB and gold contacts.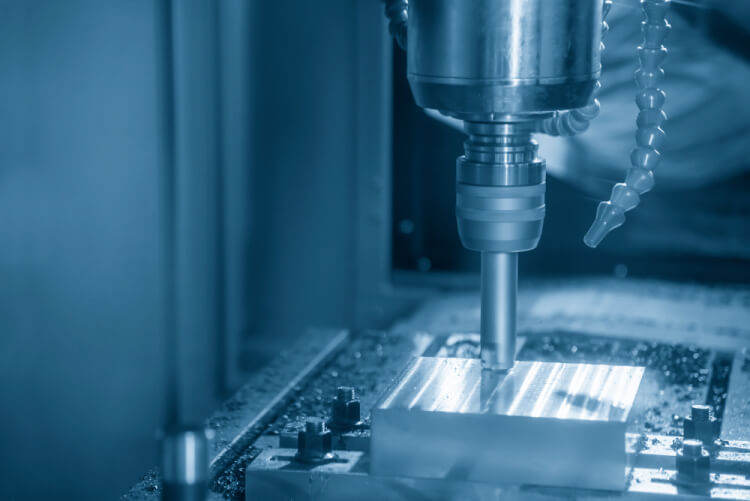 #2 We offer Tailor-Made Production with Fast Lead Time
Since our company is a leading manufacturer of keystone jacks and other communication network solutions for over 17 years, we are an expert in producing all kinds of data network accessories and solutions for any type of situation - whether for outdoor-use or indoor-use. Hence, you can entrust your OEM needs with us to tailor your keystone jacks for you.
#3 Excellence in Delivering Innovative Solutions for Stable and Durable Network Connectivity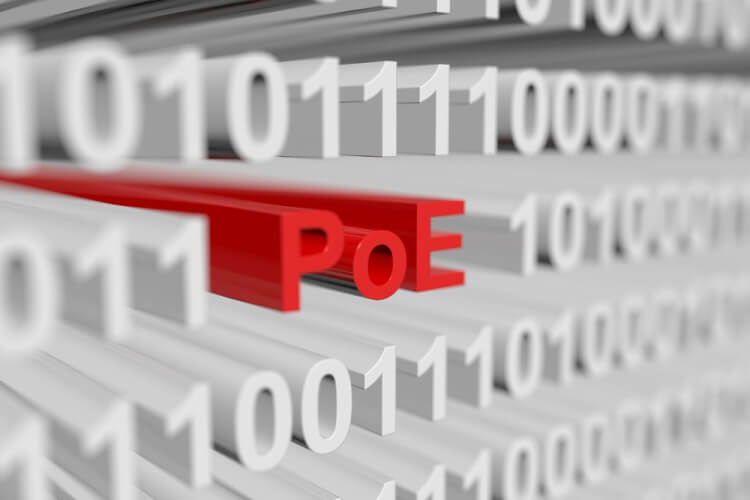 Otscable has a complete R&D and team of experts that continually strive in delivering the most technologically-advanced solutions for Ethernet connection. We now carry keystone jacks that surpass PoE+ standards and most of our modular jacks are designed with impedance matching. 
This is an advantage we carry as it improves the performance of our modular jacks and other communications accessories. This methodology also helps counteract Near End Crosstalk & Far End Crosstalk.
#4 Flexible Design Solutions for Different Keystone Modules
You may also opt for other specialized keystone module IDC configuration such as customizations for larger row gaps if you system requires it. This potentially offers wider spacing for larger diameter cables such as shielded jackets. For other customization needs, you can discuss it with us to see other pliable solutions.
FAQS About Keystone Jacks
#1 What is a Keystone Jack?
Keystone jacks are modular jacks with a snap-in mechanism, which are commonly seen in datacom and LAN systems. They are female connectors where keystone plugs are connected. Keystone jacks are mounted in a surface mount box, wall plate or patch panel and can be usually terminated using punch down tools.
Typically, you can mount different types of keystone jacks on one patch panel. They are either shielded (FTP) or unshielded (UTP) types that allows connection of cables and cords with different number of conductors.
#2 How to Wire a Keystone Jack?
Here's the quickest way to punch down, install and terminate a keystone jack.
Strip the cable jacket off at one inch from the end.
Straighten the wires and untwist each pair until you have eight separate individual wires.
See the diagram of T568A and T568B. Lay out the wires according to the color code specified by the specification you want to follow.
Lay the keystone jack on a flat desk and place the punch down tool over the first wire. Gently push down the tool until a pop sound is heard. 
Continue to punch down the tool with the rest of the wires until it's completed.
Here's a video you can follow. 
Get in Touch with OTSCABLE
If you have further questions about our keystone jacks, feel free to contact us and we'll stay in touch as soon as possible.
Industries Solutions
---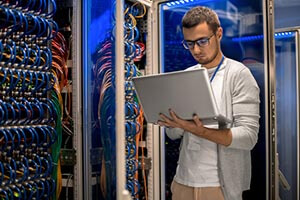 ---
Data Center Cabling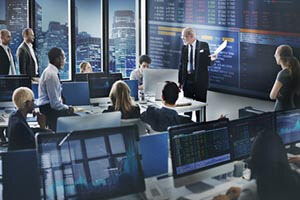 ---
Enterprise Networks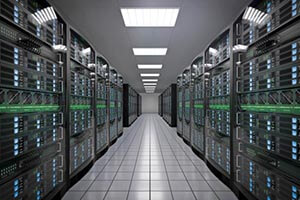 ---
Optical Cable OEM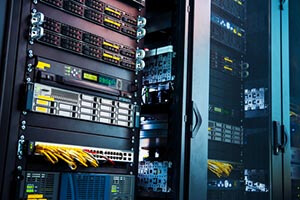 ---
Optical Transport
---
Send Us a Message
Welcome to contact us by fill the right contact form or write to us directly by the contact info below:
---
+86 (0) 755-23769401
---

---
Send us a message if you have any questions or request a quote. Our experts will give you a reply within 12 hours and help you select the right product you want.
---