Cat5e Patch Cable
---
Otscable is Cat5e Patch cable Manufacturer based-in China, offers high quality cat5e network patch cable. Includes unshielded (UTP) and FTP (Foil twisted pair) configurations. Welcome to request a free quote or samples for quality evaluation.
Cat5e Patch Cable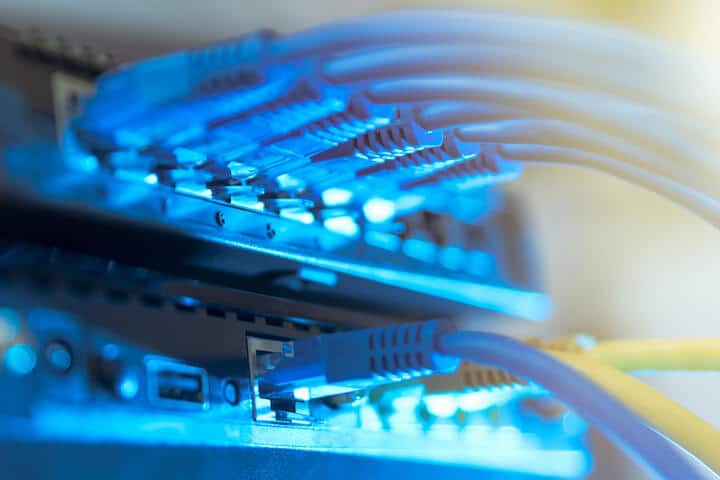 Category 5e or Cat5e Cable is a network cable consisting of four twisted pairs of copper wire for Fast Ethernet (10/100BASE-T) and Gigabit Ethernet (1000BASE-T). RJ45 Cat5e Ethernet Patch cable can be connected using a punch-down, 110 block and modular connectors, both of which are offered by OTSCABLES. Cat5e provides enhanced data transfer and lower crosstalk as compared to regular Cat5 cables.
Ethernet Cat5e Cable, used in numerous applications, is approved under the EIA/TIA 568 Commercial Building Telecommunications Wiring Standard by the Electronics Industries Association. Patch Cat5e Cable is designed with connectors on both ends, used for short distances.
What We Offer
OTSCABLES offers Cat5e Patch Cables at very affordable prices. We are the top China supplier/manufacturer of Cat5e Ethernet Rj45 Patch Cords that are available in 0.3m (1FT) to 1m (3FT) and 1.5m (5FT), 2m (7FT), 3m (9FT) and 5m (15FT).
OTSCABLES is the place where you can find a depot of Cat5e patch cord supplies and accessories used in data/telecom, industrial, audio/visual, medical, transportation and many more. We provide a variety of options for Cat5e modular plugs, Cat5e 110 Block, Cat5e UTP keystone jacks, Cat5e FTP keystone jacks, Cat5e patch panels, Cat5e UK style faceplate,Cat5e Connection boxes/surface mount box and Crimping/Punch/Insertion/Stripping Tool for Cat5e termination.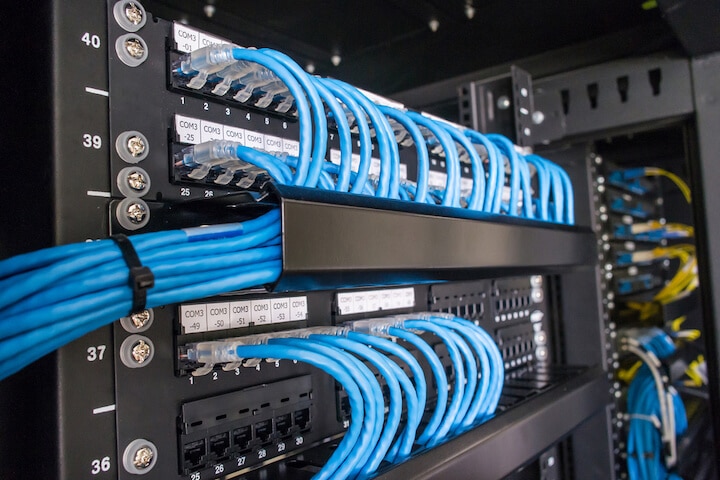 High Performance Cat5e Patch Cables You Can Find
We offer Cat5e Patch Ethernet network cables with shielded and unshielded options with high performance, snagless molded strain relief boot, 50 micron gold-plated RJ45 connector that offers premium protection during installation and termination. Furthermore, our RJ45 Cat5e Patch cable exceeds TIA and EIA standards with reduced crosstalks, delivering up to 100 MHz bandwidth.
Ruggedized Cable Insulation
We produce 100 MHz Cat5e Patch Cables designed with insulated with Polyethylene (PE), grouped under polyester tape and aluminum foil tape. For extra layer of protection from interference and heavy-duty applications, we do foil shielding of every twisted pair plus metal wire braiding. Overall, our cables are jacketed with a thermoplastic (PVC) and non-flame propagating sheath.
Available in a Variety of Colors to Choose From
Different cable applications would oftentimes be easily distinguishable with different cable color schemes. OTSCABLES has a variety of Cat5e cable colors that you can choose from, such as Gray, Black, Green, Blue, Red, Yellow, Orange, White, Purple and Pink.
Cat5e Patch Cable Types
OTSCABLES offers shielded and unshielded Cat5e patch cables, with Low Smoke Zero Halogen(LSZH) sheaths and CE and RoHS compliant. Regardless of what cable you need in a specific application, we will accommodate your concern with the best cable solution without compromising performance.
Solid Cat5e Cable
Solid Cat5e Cable uses one solid copper wire per conductor and supports long cable runs. It is designed for permanent installations such as in home, office and building fixtures. We carry some options for this type of cable such as our Cat5e Bulk FTP and Cat5e Bulk UTP cables.
Stranded Cat5e Cable
Stranded Cat5e cable is ideal of short-distance. It usually features 6 wires that surrounds a center conductor wire inside each twisted pairs. As this is composed of many single wires wound together, stranded cables are more flexible, making it suitable for short distance cable runs. Stranded Cat5e cable is commonly used for crossover cables. We carry some options for this type of cable such as our Cat5e Patch FTP, Cat5e Patch UTP and Cat5e Flat Patch cables.
Cat5e Unshielded Twisted Pair (UTP) Patch Cable
Network RJ45 Cat5e UTP Patch Cables is the most commonly used and sought after cable. Applications such as datacom, voice, ISDN, ATM155 and 622Mbps,100Mbps TPDDI, Fast and Gigabit Ethernet are can benefit from Cat5e Patch cables. This type of copper cable is consists of 2 to 1800 twisted pairs of wires that are unshielded and surrounded by an outer jacket.
OTSCABLES offers waterproof, 0.3m (1FT) to 1m (3FT) and 1.5m (5FT), 2m (7FT), 3m (9FT), 5m (15FT) and up to 30m (100FT) Cat5e UTP patch cables at very affordable China prices.
Cat5e Foiled Twisted Pair (FTP) Patch Cable
The Foiled Cat5e FTP version offers an additional layer of protection with shielding. This RJ45 Cat5e FTP is wrapped with a foil around the twisted pairs of wires, that protects the conductors against EMI/FRI and crosstalk.
Cat5e Shielded Foiled Twisted Pair (S/FTP) Patch Cable
Shielding prevents interference and signal loss. Cat5e Shielded SFTP Cables are useful for conditions where proximity to high power equipment may result to crosstalk, and it is great for areas where electromagnetic interference may occur.
Benefits of OTSCABLE Cat5e Patch Cables
Consistent and reliable performance enhancing connectivity.
Lets you customize products our tons of options as can be viewed in our vast portfolio of configurations.
100% shield coverage showcases improved protection over a wide frequency range.
Built with signal integrity.
Advanced shielding technology to counteract harsh environmental conditions.
Other Cat5e Patch Cable Products
Cat5e Keystone Jacks
Cat5e keystone jacks, or RJ45 connector is for terminating and connecting Ethernet cable. The RJ45 connector used for twisted pair and multi-conductor flat cable. We carry various options such as Cat5e UTP keystone jack and Cat5e FTP Keystone jack.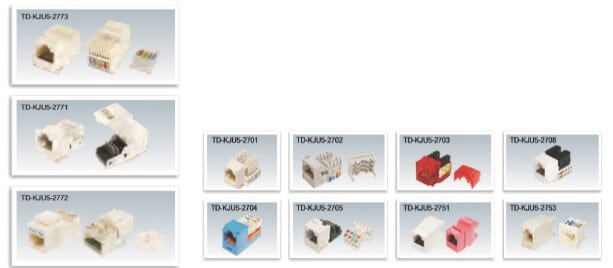 Modular Plug/RJ45
You can use modular plugs to terminate a cable, connecting it to patch panels, keystone jack and RJ45 inserts. Our line of modular plugs offers a variety of constructions, such as our shieldedCat5e FTP modular plugs, Cat5e UTP modular plugs and our RJ45 Cat5e Connector.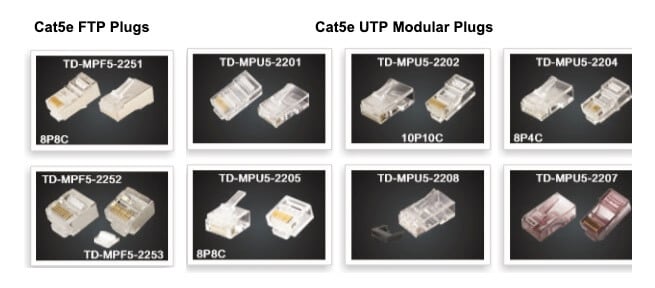 Cat5e Patch PanelsWe offer modular plugs in to terminate cords for patching application to terminate at the exact cable length desired. The plugs terminate with twisted pair cable and with solid contacts having 50 micron of gold plating over nickel
We offer a cable manager that is combined to our patch panel. All kinds of cables can be fitted with different dimensions that can be fixed on the patch panel. Our cat5e patch panel fits with horizontal distribution in the equipments room and equipments connecting and comes configured for T568A/B wiring.
OTSCABLES carry 19-inch rack mountable RJ45 jack panels. The panel has receptacles that accept virtually as snap-in jacks. The kits are equipped with the new icon label with plastic holders that you mount on the front of the panels for easy port identification.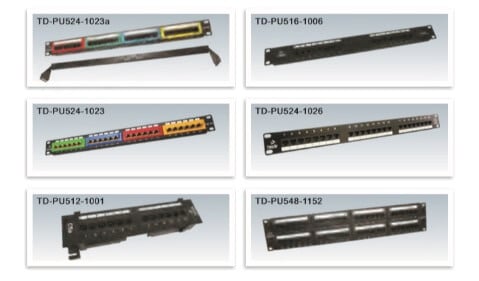 Frequently Asked Questions
How to Make a Cat5e Ethernet Patch Cable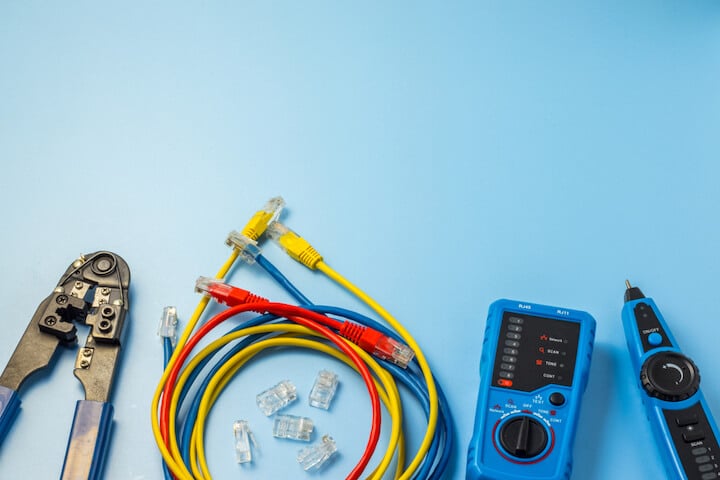 A lot have asked how to create their own Cat5e Patch Cable. While it is very easy, there is a chance that you don't get it right without a guide. The procedure below tells you how to make your own Cat5e patch cable.
Strip the cable's jacket off at about 1 inch from its end through a crimping tool.
Untwist by hand the 4-pairs of conductors contained inside from its position. Inside, you will see an orange pair, brown pair, green pair and blue pair.
Arrange the conductor wires according to 568B standard.
Upon arranging the wires and straightening them, cut ½" at a perfect 90 degree angle from the cable.
Insert and snuggle the wires into the connector, making sure the wires stay in-line with the designated pin.
Push hard assuring that all the wires have reached the end of the connector. Make sure that the jacket goes into the back of the connector at about 3/16".
Place the connector into a crimp tool, and snap it hard so that the handle reaches its full swing.
Repeat the process for the opposite end.
Lastly, use a cable tester to test for continuity.
How to Wire a Cat5e EIA568B Standard
Connector #1

Connector #2

1 White/orange

2 Orange

3 White/Green

4 Blue

5 White/Blue

6 Green

7 White/Brown

8 Brown

1 White/orange

2 Orange

3 White/Green

4 Blue

5 White/Blue

6 Green

7 White/Brown

8 Brown
How to Wire a Cat5e EIA 568-A Cable
connector #1

connector #2

1 White/Green

2 Green

3 White/orange

4 Blue

5 White/Blue

6 Orange

7 White/brown

8 Brown

1 White/Green

2 Green

3 White/orange

4 Blue

5 White/Blue

6 Orange

7 White/brown

8 Brown
The only difference between EIA 568A and EIA 568B is the White/Orange-Orange/White and White/Green-Green/White pairs are switched.
How to Wire a "Crossover" Cable (EIA 568-B)
connector #1

connector #2

1 White/Green

2 Green

3 White/Orange

4 Blue

5 White/blue

6 orange

7 White/Brown

8 Brown

1 White/Orange

2 Orange

3 White/Green

4 Blue

5 White/Blue

6 Green

7 White/brown

8 Brown
Industries Solutions
---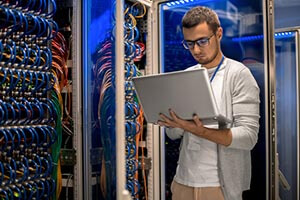 ---
Data Center Cabling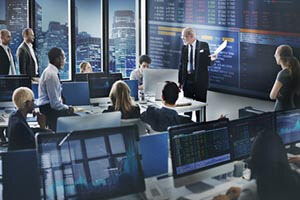 ---
Enterprise Networks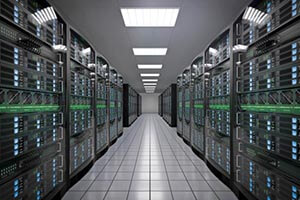 ---
Optical Cable OEM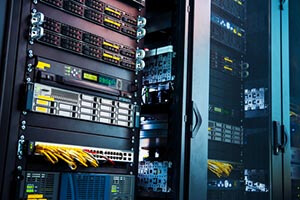 ---
Optical Transport
---
Send Us a Message
Welcome to contact us by fill the right contact form or write to us directly by the contact info below:
---
+86 (0) 755-23769401
---

---
Send us a message if you have any questions or request a quote. Our experts will give you a reply within 12 hours and help you select the right product you want.
---