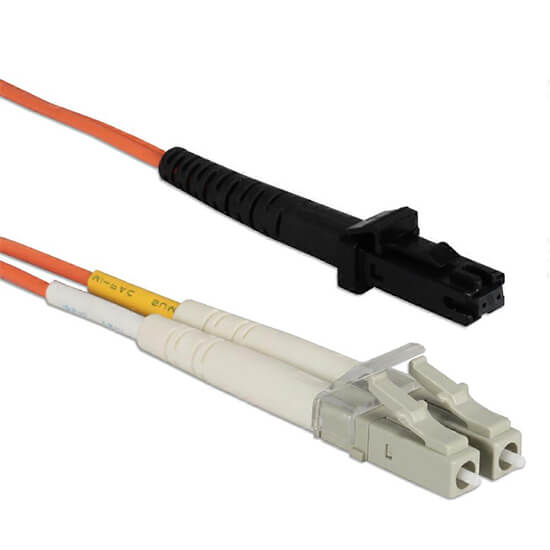 ---
LC-MTRJ patch cord
---
Details
LC-MTRJ fiber patch cord
A patch cord is a fiber optic cable used to attach one device to another for signal routing.
Features
:
Low insertion loss, high return loss
High dense connection, easy for operation
High credibility and stability
Good in repeatability and exchangeability
Application
:
Testing equipment
FTTX+LAN
Optical fiber CATV
Optical communication system
Telecommunication
---
---
Parameter
Unit
FC, SC, LC/ Armoured fiber patch cord
ST, MU
MT-RJ, MPO
E2000
SM
MM
SM
MM
SM
MM
SM
PC
UPC
APC
PC
PC
UPC
PC
PC
UPC
PC
PC
APC
Insertion loss(typical)
dB
≤0.3
≤0.2
≤0.3
≤0.2
≤0.3
≤0.2
≤0.2
≤0.3
≤0.2
≤0.2
≤0.3
≤0.3
Return loss
dB
≥45
≥50
≥60
≥30
≥45
≥50
≥30
≥45
≥50
≥35
≥55
≥75
Operating wavelength
nm
1310, 1510
1310, 1510
1310, 1510
1310, 1510
Exchangeability
dB
≤0.2
≤0.2
≤0.2
≤0.2
Vibration
dB
≤0.2
≤0.2
≤0.2
≤0.2
Operating temperature
℃
-40~75
-40~75
-40~75
-40~75
Storage temperature
℃
-45~85
-45~85
-45~85
-45~85
Cable diameter
mm
φ3.0, φ2.0, φ0.9
φ3.0, φ2.0, φ0.9
φ3.0, φ2.0, φ0.9
φ3.0, φ2.0, φ0.9
LC-MTRJ Patch Cord
LC-MTRJ fiber patch cord is a small compact patch cable designed for providing fast Ethernet solutions in Gigabit applications and ATM applications. 
Experience Reliable Duplex Connections
The LC connector is manufactured under the standard IEC 61754-20 for high density connections such as in SFP, XFP and SFP+ transceivers. It has a snap in configuration for enabling a locking mechanism similar to the retaining tab of an RJ45 connector. LC termination has a duplex design and a 1.25mm ferrule that is ideal for dense network cabling in data centers, campuses and office connections.
At the other end of this patch cord is an MTRJ connector that is designed for applications where duplex multimode connections are needed. It is an SFF connector that also resembles an RJ45 plug and has two fibers for duplex connections. 
Enhanced Connector Durability
With LC/MTRJ termination, you can easily connect and disconnect devices with its convenient and accurately injection-molded locking tabs designed with enhanced durability in resisting pulls, strains, snags, and impacts during cabling installs and maintenance. LC-MTRJ patch cord is a cheaply priced cable that can provide high speed bandwidth and enhanced transmission rates.
Safe and Tested Fiber Assembly with Low Insertion Loss
Our patch cords are 100% optically inspected and tested to bring low insertion loss not exceeding 0.02 dB.
Singlemode or Multimode LC-MTRJ, Riser or Plenum Rated
OTSCABLE supplies LC-MTRJ fiber optic cable assemblies, with single mode (9/125) and multimode (50/125 and 62.5/125) options. You can choose if it's for riser application or plenum connections or if you want it to be completely customized, you can contact us to know more about our OEM/ODM service for LC-MTRJ patch cords. 
---
Send Us a Message
Welcome to contact us by fill the right contact form or write to us directly by the contact info below:
---
+86 (0) 755-23769401
---

---
Send us a message if you have any questions or request a quote. Our experts will give you a reply within 12 hours and help you select the right product you want.
---