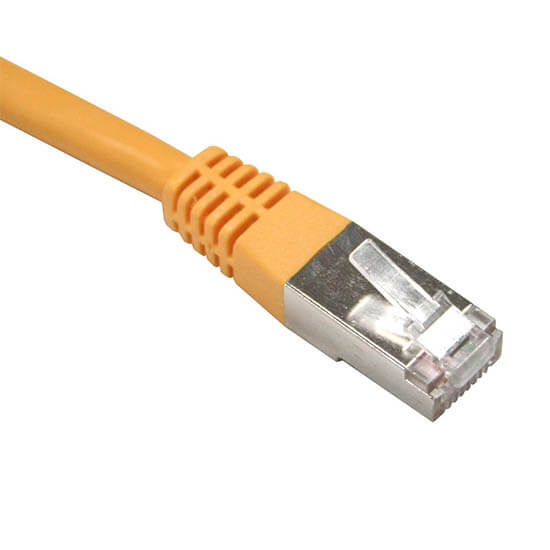 ---
Cat6 FTP Patch Cable
---
Conductors: 24AWG or 26AWG or 28AWG stranded bare copper.
INsulation: polyolefin
Color code:
pair1: blue ,white/blue
pair2: orange,white/orange
pair3: Green,white/Green
pair4: Brown,white/brown

Ripcord: under jacket
Jacket: pvc or LSZH
Standards: UL444/CSA-C22.2 No 214,Type CM
EIA/TIA-568A and EIA/TIA-568B.2,Horizontal cable
Applications: internet,computer
UTP: unscreen cable
STP : single shielding Network cable ,Mylar tape,Aluminum-mylar tape and Drain wire
SFTP: Double shielding cable,Mylar tape,Aluminum-Mylar tape and drain wire and bare or tinned copper braid
Network cable Connector detail specification:
RJ45 8P8C nickel type
RJ45 8P8C golden type
---
---
ANSI/TIA/EIA-568-C.2
 T568A & T568B
ISO/IEC 11801
 8-position conductor/pair assignment (1-2/3-6/4-5/7-8)
Pair Identification
Pair1= Blue/White Pair2= Orange/White Pair3= Green/White Pair4= Brown/White
Cordage
Constructor
 4 pairs, 7 strands,26 AWG, UTP
Cable Type
FTP Cat.6 Patch Cable
Outer Cable Diameter
6.0mm ± 0.2 mm
Outer Jacket
PVC/LSZH Jacket
Plug
Type
Shielded RJ45 8P8C Modular Plug
Housing
 UL listed 94V-0/1/2 flame retardant polycarbonate
IDC blades
 phosphor bronze, gold plating over 100 μin of nickel in contact area
---
| | |
| --- | --- |
| Retention |  50 N (11 lbf) for 60±5 s |
| Mating cycle life |  min 750 cycles |
| Tensile strength |  ≥ 20 N per wire |
| Installation Temperature |  0°C to +60°C |
| Operating temperature |  -20°C to +60°C |
| Minimum bend radius |  4 outer cable diameters |
| Boot Type | Any type of the above picture |
| Length | 0.3m-30m or As per requested |
| Package | polybag or Blister Package |
---
Send Us a Message
Welcome to contact us by fill the right contact form or write to us directly by the contact info below:
---
+86 (0) 755-23769401
---

---
Send us a message if you have any questions or request a quote. Our experts will give you a reply within 12 hours and help you select the right product you want.
---
Cat6 FTP Patch Cable, 100% Pure Copper, 23 AWG Stranded Cable
If you are looking for a cost-effective solution for supporting network applications up to 1000BASE-T, then look no further. OTSCABLES offers Cat6 FTP network patch cable for data center, home and office network applications delivering up to 10 Gigabit Ethernet over 100m of distance.
Electromagnetic interference is a noise interference that can cause disruption of operation. Thanks to OTSCABLES, our twisted pairs of Cat6 FTP cables are wrapped with foil shielding to eliminate EMI and prevent serious crosstalks and ANEXT to deliver a clear 100MHz speed for fast data transmission.
Our network Cat6 FTP patch cables are terminated with 50 Micron gold plated contacts RJ45 connectors at both ends. We make sure that each cable are delivered to you in high-quality that exceeds ANSI/TIA-568-C.2 standards. All our cables are UL Listed, ETL Verified and RoHS Compliant.
We carry non-booted and snagless booted strain relief foiled Cat5e cables with a variety of colors to choose from.
Cat6 Molded Snagless Boot, Strain-Relief FTP Patch Cables
Construction of OTSCABLES Cat6 FTP Snagless Boot Patch Cord
Our FTP Cat6 Snagless Boot, RJ45 has an overall screen wrapped around the cables with mylar tape, before a PVC jacket is shrink-wrapped around the cable. We deliver patch cables with RJ45 plugs terminated at each end by the process of injection molding. Injection molding not only ensures that the cable is pushed right into the connector, but also makes sure that each individual wires are snug securely and efficiently in place.
Benefits
Foil shielding a cable delivers strong and robust cables for environments requiring mild to harsh protection against noise interference. The strain relief snagless boot serves as support for the RJ45 connectors.
Applications
Cat6 FTP with snagless boot, RJ45 connectors Patch Cable is best for applications requiring frequent connection and disconnection from the source in many data centers. It works with Ethernet applications such as: computer, laptop, network caddy, network switch, Router, ADSL modem, CCTV camera voice and multimedia.
Cat5e Ethernet FTP Patch Cable, Non-Booted Crimped/Assembly Style
Construction of OTSCABLES Cat6 FTP Non-Booted Patch Cord
Cat6 Non-booted FTP cables are constructed by stripping the cable into the standard patch cable length, and a 50-micron, gold-plated RJ45 connector is crimped unto the wires.
Benefits
Non-booted Cat5e FTP patch cables has a space-saving feature that are ideal for densely populated data centers, where cables are cramped up. These are also ideal for simple applications and its more cost efficient than our booted cables.
Applications
EMI's and crosstalks are eliminated with shielding. That is why Cat6 FTP patch cables gives protection from these interference and noise while delivering a higher bandwidth than Cat5e FTP patch cables. Plus, you can easily install them in your home and office networks, in modems, routers, servers, hubs, printers, switch boxes, gaming console, VoIP, computers and many more. Our Ethernet Cat6 FTP cables are compatible with computer devices such as routers, patch panels, modems, switches and hubs.
Cat6 Crossover FTP Patch Cable
We stock Cat6 FTP Crossover cables used for connecting two devices, such as PC to PC, without the use of hubs or switches. Our Cat6 FTP crossover cables are shielded and terminated with 50 Micron gold plated contacts RJ45 plugs at each end. With crossover cables, you can easily connect two computers, still keeping great signal integrity.