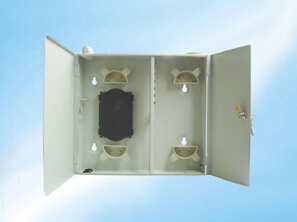 ---
ODF-IW12/24 Fiber patch panel ODF
---
Indoor wall type fiber optic distribution frame can manage both single fiber and ribbon & bundle fiber cables for indoor using.
ODF-IW12/ 24 consists of cold-roll steel box, splicing unit, distribution unit and panel. Its special design ensures the excess fiber cords and pigtails in good order, no interval and easy for management and operation.
Features
Dimension (cm): 40.5x38.2x8.5
Weight (kg): 4.2
Indoor using, capacity is 12/ 24 cores
Various panel plates to fit different adapter interface
Splice tray inside changeable
Standard size, light weight and reasonable structure
Large working space to integrate the pigtail, cables and adapters
Application
Telecommunications subscriber loop
Fiber to the home (FTTH)
LAN/ WAN
CATV
---
---
Send Us a Message
Welcome to contact us by fill the right contact form or write to us directly by the contact info below:
---
+86 (0) 755-23769401
---

---
Send us a message if you have any questions or request a quote. Our experts will give you a reply within 12 hours and help you select the right product you want.
---