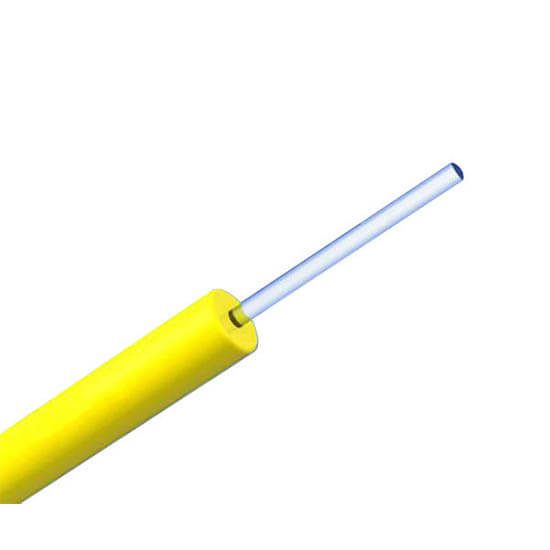 ---
0.6 GJFJV indoor cable
---
Detailed Description
Product Name: 0.6 GJFJV
Model: 0.6 Indoor Cable
Number: I001
Application
:
Components for various indoor cables
Suitable for patch cords and pigtails.
Suitable for communication equipment served.
Characteristics
:
Soft. Easy to strip.
High quality tight buffered or Loose tube.
Excellent mechanical and environmental performance.
Small cable volume. Ling weight.
---
---
Technical Parameters:
Cable Count
Out sheath
Weight
Minimum allowable Tensile Strength
minimum allowable Crush Load
Minimum Bending Radius
Storage
Diameter
(N)
(N/100mm)
(MM)
temperature
(MM)
(KG)
short term
long term
short term
long term
short term
long term
(℃)
1
0.6+/-0.05
0.9
100
50
100
80
20D
10D
40
---
Optical Characteristics: 
Fiber Sort
Multimode
G.651
A1a:50/125
Graded-index fiber
A1b:62.5/125
Singlemode
G.652(A、B、C)
B1.1:Conventional fiber
G.652D
B2: Zero  dispersion shifted
G.655
B1.2 :Cut-off wavelength shifted
G.657(A1、A2 、B3)
B4: Main technical data for positive
  dispersion shifted single-mode fiber
---
Send Us a Message
Welcome to contact us by fill the right contact form or write to us directly by the contact info below:
---
+86 (0) 755-23769401
---

---
Send us a message if you have any questions or request a quote. Our experts will give you a reply within 12 hours and help you select the right product you want.
---