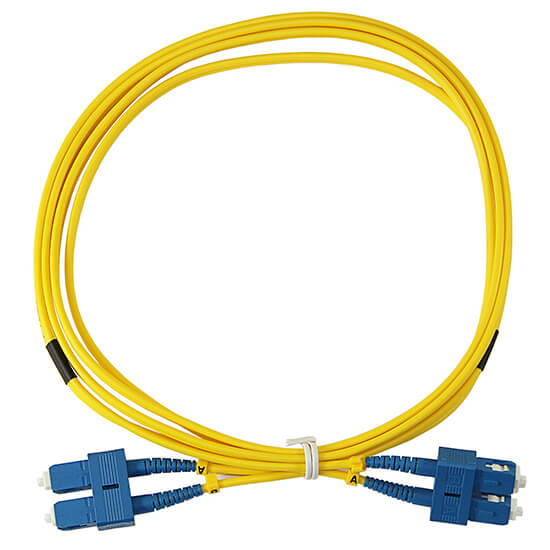 ---
SC-SC patch cord
---
Details
SC-SC fiber patch cord
A patch cord is a fiber optic cable used to attach one device to another for signal routing.
SC stands for Subscriber Connector- a general purpose push/pull style connector. It is a square, snap-in connector latches with a simple push-pull motion and is keyed.
Features
Low insertion loss, high return loss
High dense connection, easy for operation
High credibility and stability
Good in repeatability and exchangeability
Application
Testing equipment
FTTX+LAN
Optical fiber CATV
Optical communication system
Telecommunication
---
---
Parameter
Unit
FC, SC, LC/ Armoured fiber patch cord
ST, MU
MT-RJ, MPO
E2000
SM
MM
SM
MM
SM
MM
SM
PC
UPC
APC
PC
PC
UPC
PC
PC
UPC
PC
PC
APC
Insertion loss(typical)
dB
≤0.3
≤0.2
≤0.3
≤0.2
≤0.3
≤0.2
≤0.2
≤0.3
≤0.2
≤0.2
≤0.3
≤0.3
Return loss
dB
≥45
≥50
≥60
≥30
≥45
≥50
≥30
≥45
≥50
≥35
≥55
≥75
Operating wavelength
nm
1310, 1510
1310, 1510
1310, 1510
1310, 1510
Exchangeability
dB
≤0.2
≤0.2
≤0.2
≤0.2
Vibration
dB
≤0.2
≤0.2
≤0.2
≤0.2
Operating temperature
℃
-40~75
-40~75
-40~75
-40~75
Storage temperature
℃
-45~85
-45~85
-45~85
-45~85
Cable diameter
mm
φ3.0, φ2.0, φ0.9
φ3.0, φ2.0, φ0.9
φ3.0, φ2.0, φ0.9
φ3.0, φ2.0, φ0.9
SC-SC Patch Cord
SC-SC Fiber Optic Patch Cords are used to connect networking devices for signal routing. SC is short for Standard Connector or Subscriber Connector, which is one of the most popular fiber optic cable connectors used in network industries.
Offered in Singlemode and Multimode, Single or Duplex Configuration
OTSCABLE offers high quality and low priced fiber optic patch cord with SC/SC termination for either singlemode (OS1 and OS2) or multimode systems (OM1, OM2, OM3, OM4). You may also choose whether you need a single or duplex patch cord SC/SC configuration.
High Quality and Robust SC/SC Ferrule and Connector Body
Our SC/SC fiber cables are robust and efficient and can be subjected to bend angles of up to 90deg with negligible attenuation.
Space-Saving and Efficient
It can also save more space for your high density cabling in data centers, enterprise networks, telecom room, server farms, cloud storage networks, and any places fiber patch cables are needed.
Applicable in Many Ethernet (LAN) and Network Fiber Applications
Look no further as our SC-SC fiber optic patch cables can be used for connecting devices in Datacom and telecom; in GPON, EPON, GBIC and MADI applications.
Plus, your 10G SR, 10G LRM and SFP+ transceivers can also be accommodated with ease for Ethernet (10G/40G/100G) applications. Furthermore, you can easily use this SC-SC patch cord for 10G Fiber connections.
---
Send Us a Message
Welcome to contact us by fill the right contact form or write to us directly by the contact info below:
---
+86 (0) 755-23769401
---

---
Send us a message if you have any questions or request a quote. Our experts will give you a reply within 12 hours and help you select the right product you want.
---