Cat7 Bulk Cables
---
Otscable is cat7 bulk cable manufacturer based-in China since 1998. We offer high quality cat7 SFTP bulk cable. Feel free to request a free quote or ask free samples to do evaluation. If you can't find the product you want or need any custom service, leave us a message, our expert will be back to you soon.
Category 7 (Cat7) Bulk Cable
Paves the way for 10 Gigabit per second (Gb/s) Applications, Robust Data Transmissions and Crosstalk Elimination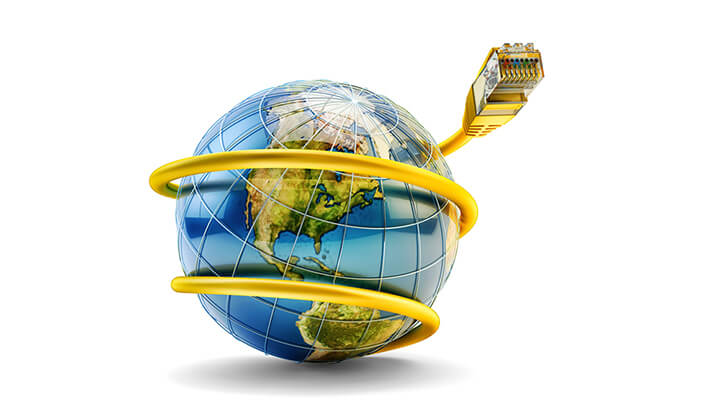 If your company needs powerful and potent enterprise network solutions, data transfers, and a more advanced approach to network cabling than what Cat6A can provide, then the time comes for you to invest in buying Cat7. Not only can Cat7 cables deliver 10Gb/s at transmissions speeds up to 600 MHz, but it is also strictly designed to eliminate crosstalks as compared with the lower Categories.
Ethernet Cat7 is a shielded cabling system that contains four twisted copper wire pairs (23 AWG) and backward compatible with Cat5e and Cat6 cables. This Class F cable is the cable standard for the seventh generation and is built to further enhance protection against RFI and EMI for a completely noise-free, and high security applications.
What OTSCABLES Can Provide
Our Cat7 bulk cable features an added layer of protection through shielding individual wire pairs, as well as enclosing cables with a foil as a whole. Conductors are made from pure solid copper, flame-resistant and non-corrosive. We make sure that each conductor pairs are tightly twisted, snug and fit to deliver up to 10 Gigabit Ethernet over 100m of copper cable length without dropping out. With OTSCABLES Cat7 Bulk Cables, you can ensure that your vision of a futuristic, reliable and sophisticated Ethernet network system or Converged Network is met with minimal expense.
It can be terminated with modular connectors such as 8P8C GG45 connectors, ARJ45, or with the popular TERA connectors. It is compliant and exceeds standards of ANSI/TIA 568 B.2-1, ISO/IEC 2nd Edition 11801 Class F Specifications.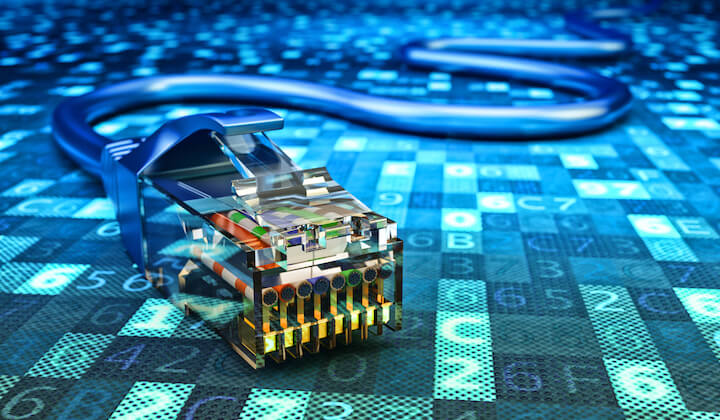 Covers a Wide Range of Network, Voice and Broadband Applications
Applications for our Cat7 cables include Voice, 10BASE-T, 100BASE-T Fast Ethernet (IEEE 802.3), 100 VG - anyLAN(IEEE802.12), T1, ISDN, 155/622 Mbps ATM 550 MHz Broadband Vedio 1000BASE-T Gigabit Ethernet
China-Priced Bulk Cat7 Cables
OTSCABLES offers wholesale bulk orders for Cat7 cables. We manufacture network cable supplies of 100m (320 ft) per reel, 305m (1000ft)/reel, 500m(1640 ft/reel), or 1000 m (3200ft)/reel - all of which are at very affordable prices.

Advanced Cable Solution for the Demands of Today's Converged Networks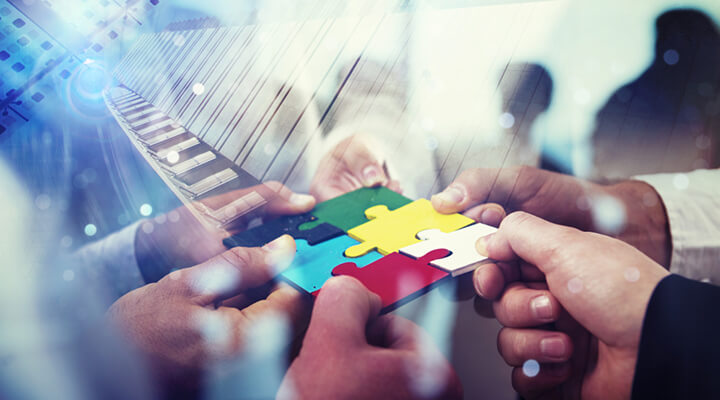 With today's demand for efficient network solutions, OTSCABLES have manufactured Cat7 bulk cables to equip your company for tomorrow's solutions for the efficient coexistence of video, data communication, and telephone within a single network system. We have designed our Cat7 cables to support 10 Gb/s PoE applications with zero insertion loss.
Practical Solution for the Future of Data Center Applications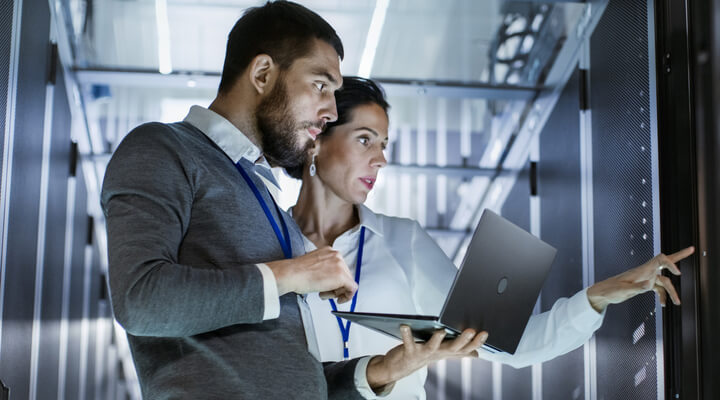 Cat7 Bulk Ethernet Cables serves as the backbone of high-speed data transmissions, connecting a number of servers into a centralized system within a data center.
It can serve as an alternative to fiber optic solutions as it can provide the same performance as fiber optics. Plus, Cat7 copper cabling costs lower than equipment supporting fiber optic cabling.
Ruggedized Cable Insulation and Cable Jacket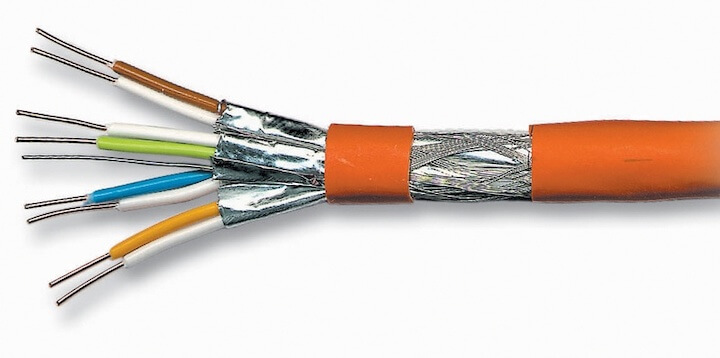 The main insulation we use is Polyethylene (PE), grouped under polyester tape and aluminum foil. We also offer shielding for an enhanced protection over interference. We ensure high performance of our cables even when subjected to heavy-duty applications. Our cables are also jacketed with PVC and non-flame propagating sheath.
We Offer Different Color Options
Different cable applications would oftentimes be easily distinguishable with different cable color schemes. OTSCABLES has a variety of Cat7 cable colors that you can choose from, such as Gray, Black, Green, Blue, Red, Yellow, Orange, White, Purple and Pink.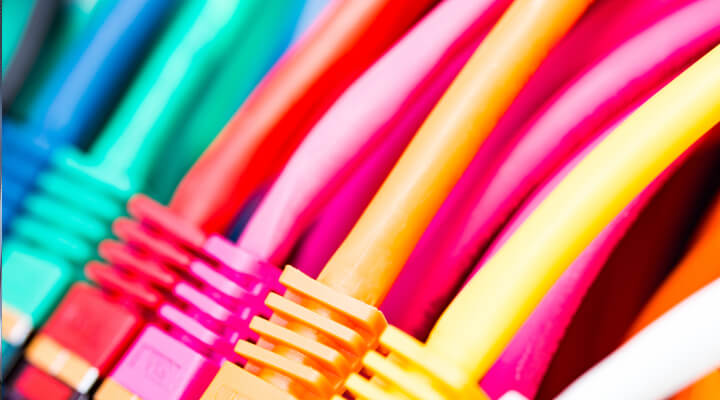 Cat7 S/FTP Bulk Cable
Our Cat7 S/FTP bulk cable is fully braided, shieldedand has a cable sheath meant to withstand indoor/outdoor conditions. This cable has a stronghold protection against EMI and harsh environmental conditions such as abrasion or heavy vibration. Since it is offered in bulk, you can be able to decide on the length you will need in construction settings to sustain the suitable network capability of your system.
Cat7 Outdoor Shielded Ethernet Bulk Cable
If you would opt for a durable bulk cable with low smoke, zero halogen jacket and fire retardant, this is the best bulk cable to buy. Our Outdoor Cat7 bulk cable exceeds ANSI/TIA and ISO/IEC certifications best for outdoor applications.
Benefits of our Bulk Cat7 Cables
Covers the versatility of the latest wiring system blueprint
Suitable for streaming, networking and gaming
High-performance ability for ATM are met.
Long service life due to heavy sheath and jacket protection.
Innovative solution for the future of enterprise network, Ethernet network and data center cabling.
Superior product specs for PoE applications.
Reliable alternative to fiber optic cabling.
Advanced and superior features as compared with lower Category Ethernet products.
Advanced shielding technology that counteracts harsh environmental conditions.
Bandwidth is higher than Cat6A cables.
Frequently Asked Questions
When to Choose Cat7 Cables?
A lot of large-scale companies are using either Cat6 or Cat6A cables. While it is true that it can sustain today's fastest network speed which is 10GBASE-T for data transfer, Cat7/7A is much more expensive than Cat6A and Cat7 termination is through GG45 connectors, OTSCABLES feels that future-proofing is much achieved with Cat7 cables.
Why?Why should companies invest on cables that seem to be not beneficial in terms of cost and speed?
In structure cabling, Horizontal cabling system is the planning and installation of a cabling system that supports many of the current needs of telecommunications and of the future. Correctly installing horizontal cabling system can ensure the future of your network cabling. However, the downside of horizontal cabling points to the fact that it is more difficult and expensive to replace, as compared with replacing the hardware. Therefore, OTSCABLES recommends installing Cat7 cables for horizontal cabling, even if it costs more than Cat6A, so as to future-proof your system. You may upgrade your hardware easily but cabling systems are more difficult to replace.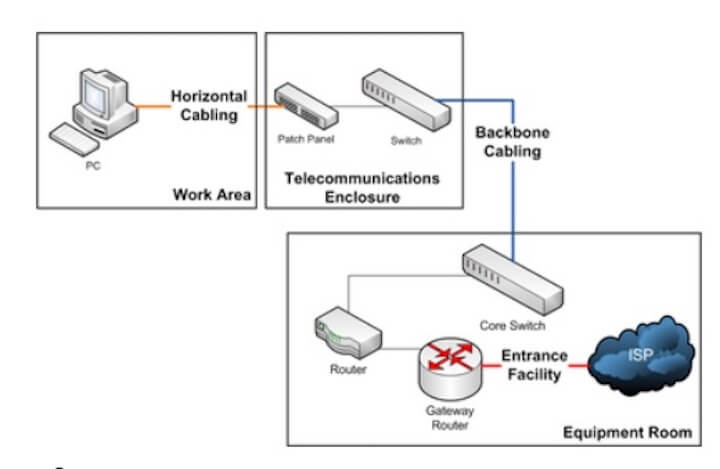 What's more?
OTSCABLES offers cost-efficient Cat7 bulk cables that wouldn't hurt your expenses as these are manufactured in China. All our cables have gone through quality checks to ensure that we deliver the best cables in the market. We can easily recommend you with the right cabling infrastructure that is most suitable with your company's network requirements.
What is the difference between Cat5e, Cat6, Cat6A and Cat7?
Cat5e(Class D), Cat6 (Class E), Cat6a (Class EA) and Cat7 (Class F) are all network cables consisting of four twisted pairs of conductors with standards as specified by ANSI/TIA/EIA-568-A. Shielded and unshielded options are available for Cat5e (Cat5e UTP, Cat5e FTP, Cat5e S/FTP), Cat6 (Cat6 UTP, Cat6 FTP, Cat6 S/FTP) and Cat6A (Cat6A UTP, Cat6A S/FTP). For Cat7, however, it only has a shielded option since it is designed to carry network signals almost eliminating EMI/RMI.
All of these cables can support 10GBASE-T applications and can be backward compatible with its lower categories. This means that Cat5e can be backward compatible with Cat5, Cat6 can be backward compatible with Cat5e and Cat5, and so on. This also means that you can be able to plug a newer Category cable into a device that is created for a slower cable.
Termination of Cat5e, Cat6, Cat6A and Cat7
Cat5e, Cat6 and Cat6A can all be terminated with RJ45 modular connectors. Cat7 holds a more special feature, though, as compared with the other cables. Cat7 cables can be terminated with 8P8C compatible GG45 connectors, ARJ45, or with TERA connectors.

Cat5e, Cat6, Cat6A and Cat7 Comparison Table
Summarized below is a comparison of network cables:

Which is better for a new house: Cat6 Vs. Cat7 Cable?

According to the ongoing trend of network development, if you're setting up a new house and choosing your network cabling and solutions, Cat7 cable is more appropriate to install. As time is changing the demand for better network technology solutions, so does the preparation you need to equip yourself with the latest and advanced network cabling solutions. However, if you are looking for a cheaper alternative that can still give you good network output, Cat6 and Cat5e would also be smart choices.
Cat7 Vs Cat7A Cable: When to use each?
Cat7 and Cat7A have very similar characteristics. They both can deliver about 10Gb/s data. The difference lies in the diameter of each cable. While Cat7A has a larger diameter due to higher-grade of shielding and therefore is bulkier, it can further significantly reduce EMI than Cat7. Cat7A can also provide higher broadband speeds of up to 1,000MHz. Cat7 can provide 600 MHz.
Industries Solutions
---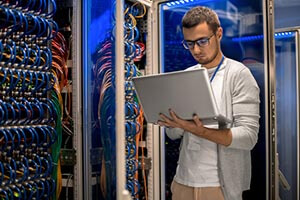 ---
Data Center Cabling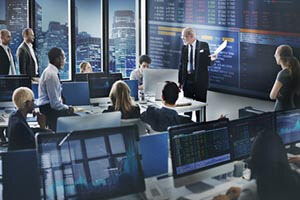 ---
Enterprise Networks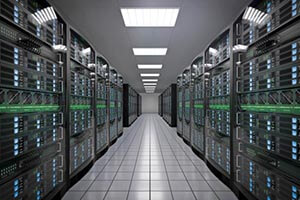 ---
Optical Cable OEM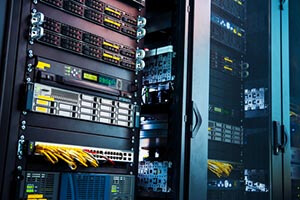 ---
Optical Transport
---
Send Us a Message
Welcome to contact us by fill the right contact form or write to us directly by the contact info below:
---
+86 (0) 755-23769401
---

---
Send us a message if you have any questions or request a quote. Our experts will give you a reply within 12 hours and help you select the right product you want.
---