Cabinet
---
Otscable is a leading network rack cabinet manufacturer in China. Our factory offer high quality network rack include wall-mount cabinets and server network cabinets. You can easy find the cord in following products. Feel free to request a quote or leave us a message, out experts will be back to you within 8 hours.
Network rack cabinets are server enclosures in the cabling infrastructures of data centers, telecommunications industries and large network enterprises. These server racks or enclosure cabinets are packed with specific, yet flexible features designed to make server rack installations and maintenance more convenient.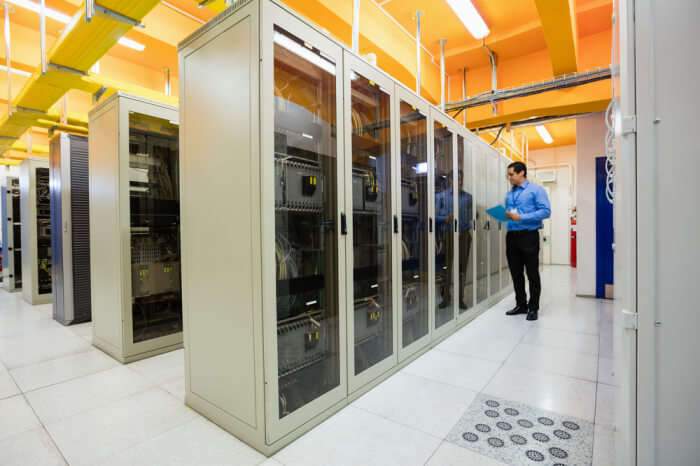 The 19" rack is the most common server rack you can find in the market. It is built with a sturdy frame and robust protrusions for fastening modules to the rack with screws. Recent developments have emerged enabling tool-less shelf installations on data racks allowing fast and easy assembly with fewer downtimes. These network racks may come with a 21-inch dimension or other customized rack dimensions. As of today, the ones that are available in the market come with hefty price tags. Thankfully, OTSCABLE offers not only standard 19" rack but also custom rack sizes available with tool-less shelves at affordable costs.
What we offer
OTSCABLE is a leading server rack and cabinet manufacturer in China specializing in producing high quality standard
19" rack, 21" rack, 23" rack
and
custom server racks
. We offer low-cost network rack cabinet solutions for telecom, datacom and other communication networking needs.
You can choose from a variety of Network Rack Cabinet options
For more than 20 years, our company has been a leading exporter of network communication needs, including industry-standard rack cabinets and server racks. We have met most of the modern trends in the IT industry. What you can achieve is boundless when you choose us as your OEM provider or supplier of network rack cabinets. Not only do ours meet the standard requirements of
ANSI/EIARS-310-D
, but we can also implement other standards such as the
ETS 300 119
or
modernized Open Rack configurations
followed by top companies such as Facebook, Intel, Nokia, Google, Microsoft, Seagate, Dell, Cisco and many more. Since we manufacture and assemble in our factory, you get your desired network rack cabinets at lower and affordable rates.
Outstanding Features
At a glance, you will find our network rack cabinets one of the best in the market with the following features:
A variety of models with top and bottom cable routing ports
Sturdy steel door/toughened glass front door and side panels that allows efficient airflow
Vertical mount racks can be adjusted.
Adjustable mounting depths (3" to 32.5" inches)
Option for locking front door or can be reversible.
Option for locking side panels or can be conveniently removable.
Fully assembled and easy to install and mount
Can be available with caster wheels and leveling feet
Wall Mount Server Cabinet with 6U, 9U, 12U, 15U, 18U, 20U Rack Dimensions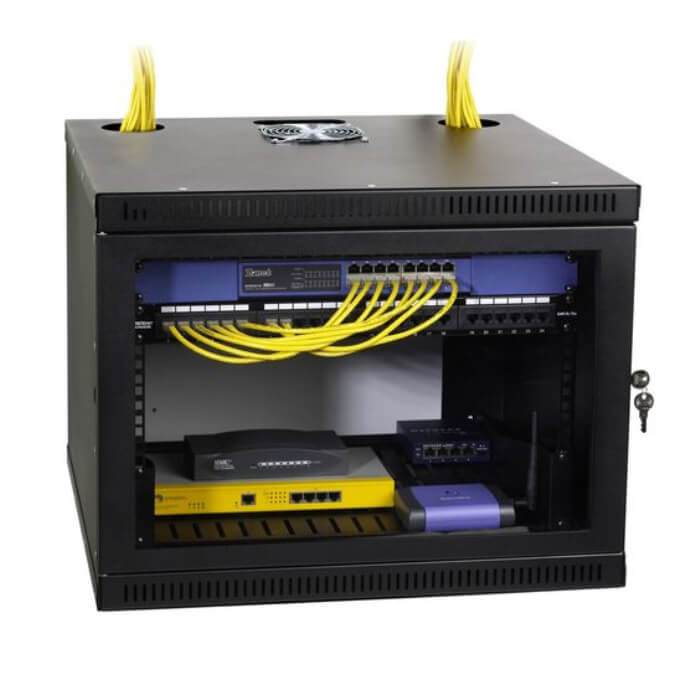 The wall mount rack cabinet is an economical and cost effective solution for mounting 19" rack server equipment to a wall. It's ideally built for limited areas for LAN networks. You may also use this as your home network cabinet solution for rack-mounting switches. Our wall mount rack is made seamlessly with 16 gauge high-strength steel and finished with powder-coating to protect the unit against rust, oxidation and scratches. This wall mount cabinet can receive good ventilation with its smartly-engineered heat dispensing unit that also maximizes cooling efficiencies. Weight capacity is as high as 60-kg and it has a hinged lockable door.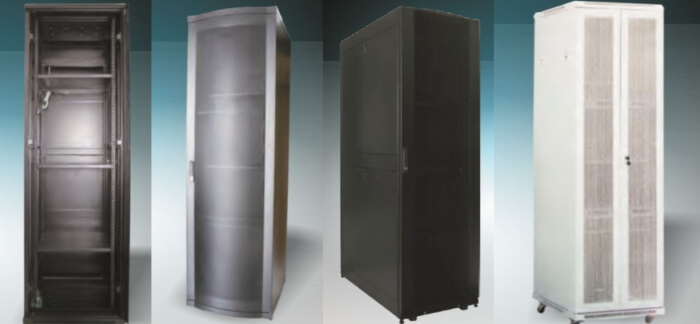 Standard 19" Rack Cabinet, 18U, 22U, 27U, 32U, 37U, 42U, 47U Rack Dimensions
This is our standard 19" rack cabinet. Designs may vary from a curved perforated front door and double section rear door or the conventional rectangular-shaped front steel door. These network racks enable ventilation rate of above 80%. The top and bottom wiring channels can be closed and adjustable and its backside has a pair of vertical cable management unit. Weight capacity is up to 1000 kg.
19" Rack Cabinet with Front Glass and Rear Vented Doors, 14U, 18U, 22U, 27U, 32U, 37U, 42U, 47U Rack Dimensions
This is our network rack cabinet with toughened glass front door and high strength steel back door. It has a maximum capacity of 500kg with rack side panels that can easily be assembled and disassembled without using any tools.
19" Rack Cabinet with Mesh Double Door Server Rack
This server rack cabinet enclosure has a meshed double door for proper ventilation and ease of maneuvering during maintenance. Like the other models, it has a top cable entry, and bottom cable entry.
Custom Network Rack Cabinets
You may also have us customize the size of your network rack to accommodate more airflow for 19" rack equipment for large processing server units. Otscable offers low cost solutions for customizing server racks for industrial network systems that can be more functional, cheap, yet robust for your company needs. Configurations may accommodate the following needs as requested:
A disk tray that can get SAS out easily.
Set-up that allows easy conversion of AC to DC; or set-ups that don't require inverters.
Incorporation of customized handle and lever design.
Rail trays that are easy to maneuver so equipment can stay powered on even when serviced.
Incorporation of expanders to securely nestle switches.
Convenient tool-less design for easy installation and maintenance
Network Rack Cabinet Accessories
OTSCABLE has a wide portfolio of network communication products for conveniently installing LAN network in your business. We also carry an extensive range of rackmount accessories, enabling you to customize your network needs to meet any requirement.
You may also want to take a look at some of the accessories we have for network rack cabinets:
PDU
Shelf/sliding shelf
Cooling fan
Wheels
 Lock
Cable ties
Cage and nut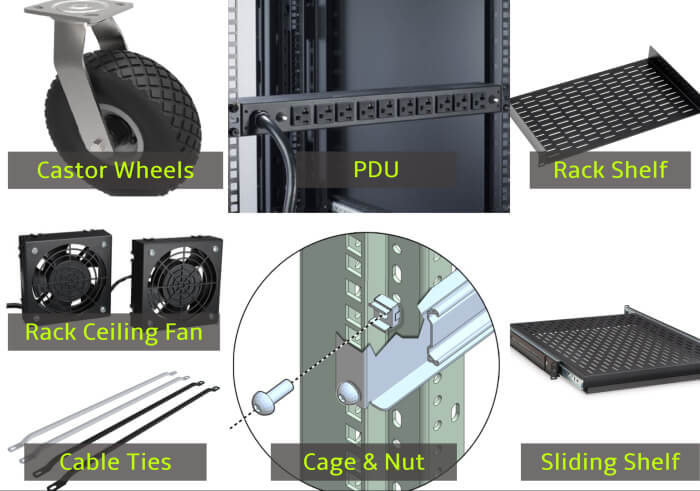 Applications
Network rack cabinet has been widely used in the IT field for computer data network, page, wiring, Pa broadcasting, soundtrack system, subway train and many more. Here are other useful applications:
Data centers, central room, industrial facilities, etc.
Telecom rooms, computer equipment rooms.
Horizontal cabling or structured cabling transmission installations.
Multi-user communication or LAN network wiring.
A/V cable systems for media, office, conference rooms, general work areas and projector rooms.
Fiber optic installations.
How We Manufacture Network Rack Cabinets
OTSCABLE has a complete assembly line for network rack cabinet and enclosure. Our factory is certified with ISO9001 certification for network cabling needs and server installations for many data centers and home networks. We have the advantage of designing, modifying and customizing network rack cabinets for better Ethernet delivery and performance.
Cutting and Assembly
Otscable has a high degree of workmanship precision in assembling network rack and cabinets for standard-sized servers. We build network cabinets with SPCC steel and do surface finishing methods before doing a series of quality tests. Dimensioning of panels are in conformance with 19" standard rack size used in network cabinets.
Surface Finishing
We produce high quality data cabinets that are both environmentally and decoratively pleasing to our customers. Refinement methods and surface finishing of the patch panels imparts added durability for better performance, resistance to scratching and wear. We make use of powder coating methods, pickling and phosphating for surface finishing. Color is usually black (RAL9005) for more professionality but you can choose other colors.
Quality Control
All raw materials for data cabinet production are quality checked by QC experts in our company. Each critical step of the production process is vehemently audited to ensure that we achieve the highest quality of products produced. We also have an advanced quality control system ensuring that data cabinets and other network accessories are manufactured with consistency. All equipment are with strict compliance with ETL and UL, bearing CE markings that meet ANSI/TIA-568 C.2 requirements. For an environmentally-friendly production, we also have strict compliance with RoHS and LSZH standards for safe usage of consumers.
Our Advantages
Customizable Network Rack Cabinet Production with Fast Lead Time
Our company specializes in B2B transactions and guarantees expert production of data network accessories and solutions for both outdoor or indoor network installations. You can fully entrust your OEM needs to us to tailor your network rack cabinet for your company.
Highly Compatible with Standard Rack Equipment
Our network rack cabinets are highly compatible with standard 19" rack equipment.
Several Highly Advanced Manufacturing Techniques for Producing Bulk Network Rack Cabinets
OTSCABLE is a carrier of high performing machinery for producing any network solutions including network rack cabinets.
Network Rack Cabinets FAQ's and Guide
Confused about network rack cabinets? Here is a compilation of the most common questions people ask about server racks and cabinets. You might find one of these useful before you buy server cabinets for your small home network rack project or large network rack installations.
What is rack in-network?
A network rack cabinet is a steel enclosure that houses a number of network devices and server equipment.
What is the difference between rack and cabinet?
The main difference between a rack and cabinet is that data
Racks
are only metal frame chassis with no sidewalls and where several network equipment is mounted while
Network cabinets
or server cabinets are built with steel walls that can be flexibly removed. The term
"rack-mount equipment"
is often associated with network racks where equipment is placed in racks. Cabinets, on the other hand, are designed to fit 19" compatible server equipment.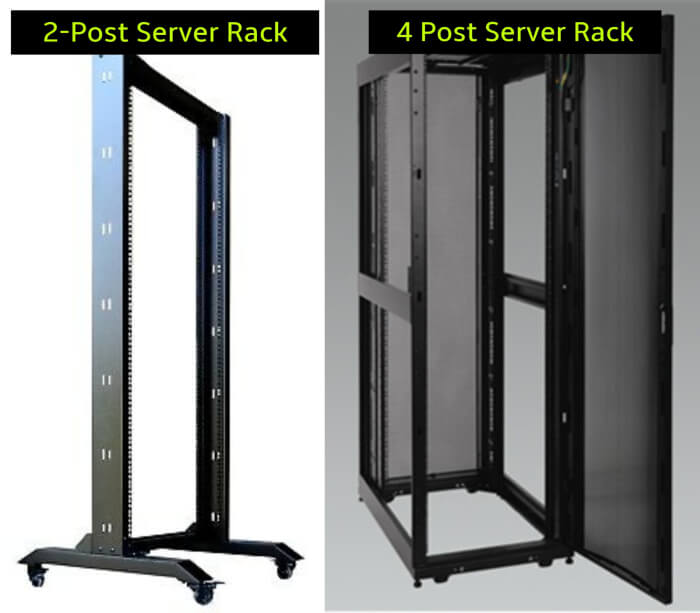 Another thing is, when you see the network frame with only
2 vertical posts
, this is called a 2 post rack. Most data cabinets, on the other hand, have rectangular frame enclosures known as
4 post rack enclosures
. Since 2 post racks are less bulkier than 4 post racks, you can use it for home networks when it is needed. OTSCABLE manufactures and supplies these at a low cost.
What type of measurement is used for rack mounted equipment?
When you need to buy network rack cabinets, you need to specify its measurements. The unit of measurement used for specifying the network rack dimension is called
"U"
. This is the smallest unit of measurement used by data centers. A
Rack/Cabinet U defines the height of a cabinet
where
1U is equivalent to 1.75 inches (1U = 1.75 inches)
. The most common industrial server cabinet is called a
42U rack cabinet.
You may also hear
24U racks.
You can easily tell that a 42U cabinet has an internal height of 73.5 inches. This houses several compatible-sized rack mount servers and networking equipment in many data centers.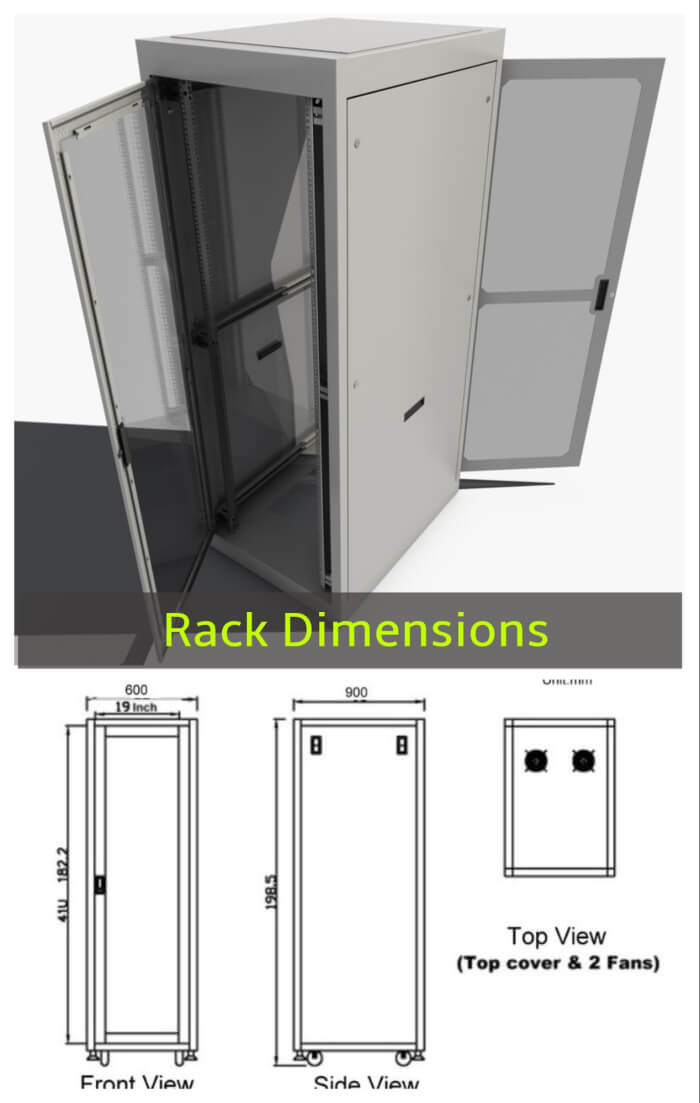 How do I calculate my server rack size to fit a server room?
Horizontal Width
: Most server equipment dimensions are fitted for 19" rack dimension standard. So if you're opting to buy a network rack/cabinet, you need to know which standard you will be following to know if you need a 19" horizontal width, 21", 23" or other rack dimensions.
Internal server equipment height:
As mentioned earlier, "U" defines server rack heights. The form unit for network chassis is designated as "24U", "42U", etc. In order to determine the standard height you need, find out how much cabinet space is required to accommodate that unit. Just add up the space requirement in inches and use the conversion factor of "1U=1.75 inches" to determine its height requirement. The size of the server rack should also accommodate ample ventilation and heat dissipation units as
proper server ventilation is very essential in server rooms
. If you are not sure about the size of the rack or cabinet you need, you may reach us for support. You may also want to check out this cool video on how Facebook configured their data cabinets in an efficient and functional manner.
What equipment is in a server room?
Network racks
contain various types of devices for LAN wiring setups. You may find the following devices inside a server room in network racks:
Switches – a centralized hardware device that receive and send data to specific destinations within a LAN.
Routers – Like switches, a router also receive and transmit data packets, but it is capable of forwarding data over many networks. Different network devices can connect to the internet using a router.
Modems – This is a device that connects the internet to the router. A patch cable is usually used for Ethernet connections.
Here's a video that explains how switches are different from routers and hubs.
Get in Touch with OTSCABLE
A network rack cabinet is an essential enclosure for a number of server equipment. It simplifies rack-mount server installations, equipment rack maintenance and organizes cables with its cable ports for routing, steel doors, and removable side panels. With a high quality network rack cabinet, you can seamlessly allow your network system perform at its highest potential with utmost functionality. OTSCABLE can make this happen. You may
contact us
for network rack cabinet quotations or
OEM/ODM service information
.
Industries Solutions
---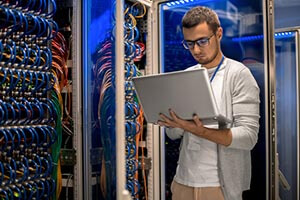 ---
Data Center Cabling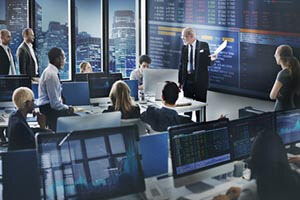 ---
Enterprise Networks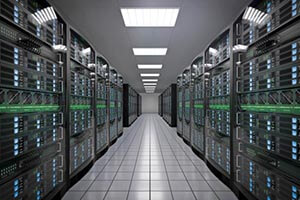 ---
Optical Cable OEM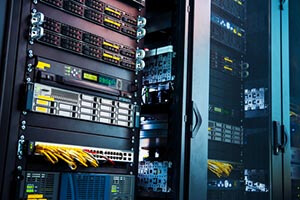 ---
Optical Transport
---
Send Us a Message
Welcome to contact us by fill the right contact form or write to us directly by the contact info below:
---
+86 (0) 755-23769401
---

---
Send us a message if you have any questions or request a quote. Our experts will give you a reply within 12 hours and help you select the right product you want.
---