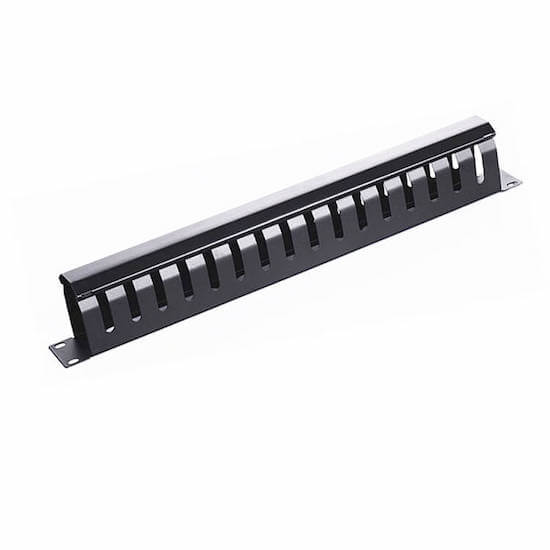 ---
Cable management
---
Cable management is equipment for manage patch cable, it is divided into two parts: Cable Management Board and Cover (pinch)
Standard EIA 19″ rack and cabinet mount;
Management improves the look of a closet or workstation, it is an essential element for easy adds, moves or changes. It is also crucial to maintaining cable integrity by ensuring resisted steel and ABS;
Lightweight, easy to install or removal;
The panel is configured with 24 rings;
Custom-made cable management is acceptable
---
---
Comply with ANSI/EIA;RS-310-D;IEC297-2;DIN41491:PART1;DIN41494:PART7; GB/T3047.2-92 standard; compatible with ETSI standards.
Surface Finish: Degreasing, pickling, phosphoric, power coating.
Material: SPCC cold rolled steel;
Color: RAL9005(black).
Sizes:International standard 19 inches used on network cabinets.
Product name: 1U 19″ metal horizonal Cabinet manager HM-PP36
Function: Accessory for network server cabinet
Size: 1 U / 2 U
Material: Cold-rolled steel
Application: Cable management
Dimension: 483*45*70mm
Weight: 636g
Color: Black
Surface: Phosphating, pickling and powder coating
Thickness of steel: 1.2mm
---
Send Us a Message
Welcome to contact us by fill the right contact form or write to us directly by the contact info below:
---
+86 (0) 755-23769401
---

---
Send us a message if you have any questions or request a quote. Our experts will give you a reply within 12 hours and help you select the right product you want.
---