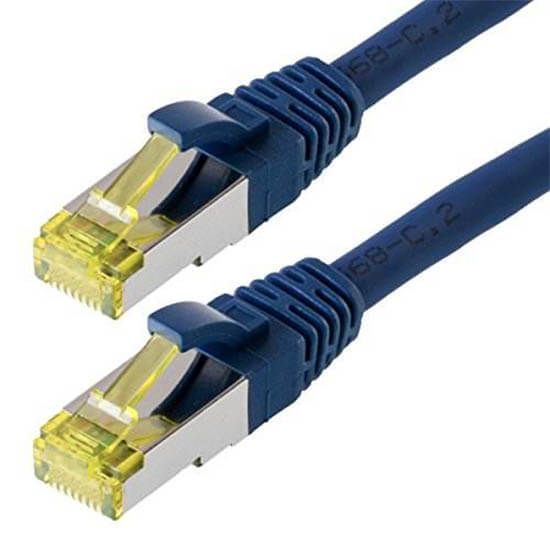 ---
Cat7 Patch Cable
---
Conductors: 24AWG or 26AWG stranded bare copper.
INsulation: polyolefin
Color code:
pair1: blue ,white/blue
pair2: orange,white/orange
pair3: Green,white/Green
pair4: Brown,white/brown

Ripcord: under jacket
Jacket: pvc or LSZH
Standards: UL444/CSA-C22.2 No 214,Type CM
EIA/TIA-568A and EIA/TIA-568B.2,Horizontal cable
Applications: internet,computer
UTP: unscreen cable
STP : single shielding Network cable ,Mylar tape,Aluminum-mylar tape and Drain wire
SFTP: Double shielding cable,Mylar tape,Aluminum-Mylar tape and drain wire and bare or tinned copper braid
Network cable Connector detail specification:
RJ45 8P8C nickel type
RJ45 8P8C golden type
---
---
ANSI/TIA/EIA-568-C.2
 T568A & T568B
ISO/IEC 11801
 8-position conductor/pair assignment (1-2/3-6/4-5/7-8)
Pair Identification
Pair1= Blue/White Pair2= Orange/White Pair3= Green/White Pair4= Brown/White
Transmission Performance
NSI/TIA-568-C.2  category 7 (1-750 MHz) specifications
Cordage
Constructor
 4 pairs, 7 strands,28 AWG, SFTP
Cable Type
SSTP Cat.7 Patch Cable
Outer Cable Diameter
 6.0mm ± 0.2 mm
Outer Jacket
PVC/LSZH Jacket
Plug
Type
Shielded RJ45 8P8C Modular Plug
Housing
 UL listed 94V-0/1/2 flame retardant polycarbonate
IDC blades
 phosphor bronze, gold plating over 100 μin of nickel in contact area
---
| | |
| --- | --- |
| Retention |  50 N (11 lbf) for 60±5 s |
| Mating cycle life |  min 750 cycles |
| Tensile strength |  ≥ 20 N per wire |
| Installation Temperature |  0°C to +60°C |
| Operating temperature |  -20°C to +60°C |
| Minimum bend radius |  4 outer cable diameters |
| Boot Type | Any type of the above picture |
| Length | 0.3m-30m or As per requested |
| Color | Grey/Green/Blue/White/Black/Red/Yellow |
| Package | polybag or Blister Package |
---
Send Us a Message
Welcome to contact us by fill the right contact form or write to us directly by the contact info below:
---
+86 (0) 755-23769401
---
---
Send us a message if you have any questions or request a quote. Our experts will give you a reply within 12 hours and help you select the right product you want.
---
Cat7 Patch Cable
Catering Your Needs in Office Network, Converged Network and Data Center Connection
OTSCABLES Cat7 patch cable is on its way in combining superb, high-quality performance cabling solution with universal connector compatibility. Cat 7 Ethernet Patch Cable is backwards compatible with Cat5e, Cat6 and Cat6A cables and has a higher bandwidth capability. This 600 Mhz, UL listed Cat7 patch cables can transmit data up to 10 gigabits per second at over 100 meters distance - combining the benefits of workplace productivity and hassle-free data transfers.
What OTSCABLES Can Provide
Say hello to the future of Converged Network with our indoor-rated 600 Mhz Cat7 Ethernet patch cords, featuring extra durable, fully shielded wire pairs giving an added layer of protection against crosstalks and noise.
OTSCABLES offer Cat7 patch cable that contains four twisted copper wire pairs (23 AWG) and backward compatible with Cat5 and Cat6 cables. This Class F cable is the cable standard for the seventh generation and is built to further enhance protection against RFI and EMI for a completely noise-free, and high security applications.
Secure, Reliable Connection
Conductors are made from pure 100% solid copper, flame-resistant and non-corrosive. We make sure that each conductor pairs are tightly twisted, snug and fit to deliver up to 10 Gigabit Ethernet over 100m of copper cable length without dropping out. With OTSCABLES ROHS-compliant Cat7 Patch Cables, you can ensure that your vision of a futuristic, reliable and sophisticated Ethernet network system or Converged Network is met with minimal expense.
Our Cat7 cable can be terminated with modular connectors such as 8P8C GG45 connectors, ARJ45, or with the popular TERA connectors. It is compliant and exceeds standards of ANSI/TIA 568 B.2-1, ISO/IEC 2nd Edition 11801 Class F Specifications.
Competitive Transmission Quality Speed Delivery
Speed and quality are valuable in every data center business and is greatly delivered by wired LAN. OTSCABLES Cat-7 Ethernet patch cable can transmit data at speeds up to 10 Gb per second — 10 times faster than Cat-6 cables (1 Gigabit per second). Designed for use with 10 Gigabit Ethernet, the Cat-7 cable can handle network protocols from 10BASE-T to 10GBASE-T.
Covers a Wide Range of Network, Voice and Broadband Applications
OTSCABLES Cat 7 Patch Cable can provide connectivity for a wide range of devices such as in computers, servers, printers, and routers and PS3, PS4, x-box, Patch panels. Applications for our Cat7 patch cables may also include Voice, 10BASE-T, 100BASE-T Fast Ethernet (IEEE 802.3), 100 VG - any LAN(IEEE802.12), T1, ISDN, 155/622 Mbps ATM 550 MHz Broadband Vedio 1000BASE-T Gigabit Ethernet.
Enhanced Interference Shielding and Crosstalk Elimination
Our Cat 7 Patch cables has shielded connectors (GG45, ARJ45 or TERA connector) at each of its opposite ends. It is insulated with Polyethylene (PE), grouped under polyester tape and aluminum foil. The Cat7 patch cable is fully shielded with PVC jacket and non-flame propagating sheathe for an enhanced protection against electromagnetic interference/radio-frequency interference (EMI/RFI), and elimination of AXT. We ensure high performance of our cables even when subjected to heavy-duty applications.
Practical Solution for the Future of Data Center Applications
Cat7 Patch Ethernet Cables serves as the backbone of high-speed data transmissions, connecting a number of servers into a centralized system within a data center.
Cat7 can serve as an alternative to fiber optic solutions as it can provide the same performance as fiber optics. Plus, Cat7 copper cabling costs lower than equipment supporting fiber optic cabling.
Offered in a Variety of Cable Lengths at Affordable, China-Priced Deals
OTSCABLES offers a variety of cable lengths to choose from ranging from 0.3m (1FT) to 1m (3FT) and 1.5m (5FT), 2m (7FT), 3m (9FT), 5m (15FT) and up to 30m (100FT) Cat7 patch cables - all of which are at a China-priced bargain.
A Variety of Color Options
Different cable applications would oftentimes be easily distinguishable with different cable color schemes. OTSCABLES has a variety of Ethernet Cat7 patch cable colors that you can choose from, such as Gray, Black, Green, Blue, Red, Yellow, Orange, White, Purple and Pink.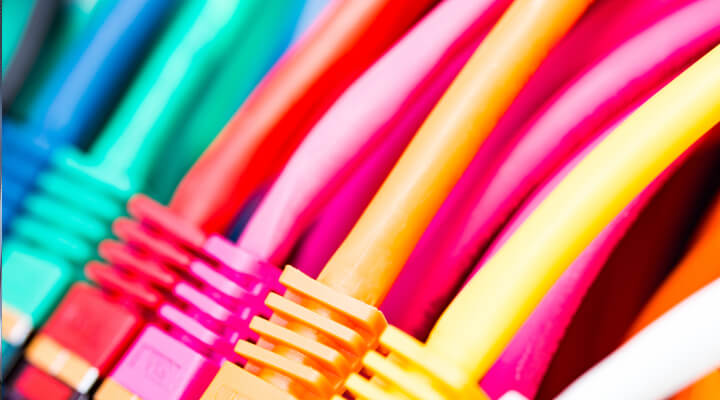 Cat7 Patch Cable Types and Termination Options
OTSCABLES offer shielded Cat7 patch cables with varying lengths and different terminations with Low Smoke Zero Halogen(LSZH) sheaths and CE and RoHS compliant. We have snagless network patch cables and molded boots patch cables. We also offer a line of modular plugs for Cat7 and some crimping tools, patch panel, etc.
Regardless of what cable you need in a specific application, we will accommodate your concern with the best cable solution without compromising performance.
What is the difference between snagless or molded boots?
Snagless
OTSCABLES offers snagless Cat7 patch cables, in which the cables have a small flap. This protects the connector from snagging on other items when being pulled from the source. These snagless network Cat7 cables are designed for applications where high insertion cycles occur.
Molded Boot
We also offer Ethernet Cat7 patch cables with molded boots. These patch cables provide added support to the transition point where a flexible cable connects to a rigid connector or connection point. A properly designed strain relief boot will prevent force applied to the exterior of a cable from being transferred to the electrical terminations within the connector or device which can lead to failure.
Recommendable Applications of Snagless and Molded Boots
| | |
| --- | --- |
| Application | Recommendable Cable |
| Patch Panel | Molded |
| Rackmount Servers | Molded |
| Cable kit | Snagless |
| Laptop to wall jack | Snagless |
GG45, RJ45 and TERA Connectors for Cat7 Patch Cable Termination
Are there Cat7 cables with RJ45 connectors? As far as I know, category 7 supports only Tera and GG45 connectors.
Cat5e, Cat6 and Cat6A can all be terminated with RJ45 modular connectors. For Cat7 cables, termination is a lot more special. Cat7 cables can be terminated with 8P8C compatible GG45 connectors, ARJ45, or with TERA connectors. RJ45 can be arguably used but cannot be able to uphold the all the specs of Cat7.

Shielded Cat7 Patch Cable
We offer Cat7 patch cables as fully braided, shieldedand covered with cable sheath intended for stronghold protection against EMI and harsh conditions.
Benefits of Cat7 Patch Cables
Long service life due to heavy sheath and jacket protection.
Suitable for streaming, networking and gaming
Covers the versatility of the latest wiring system blueprint
Innovative solution for the future of enterprise network, Ethernet network and data center cabling.
Advanced and superior features as compared with lower Category Ethernet products.
Bandwidth is higher than Cat6A cables.
High-performance ability for ATM are met.
Superior product specs for PoE applications.
Advanced shielding technology that counteracts harsh environmental conditions.
Reliable alternative to fiber optic cabling.
Frequently Asked Questions
What's the difference between Cat5e, Cat6 and Cat7 Patch Cable?
Cat 7 patch cable is the most advanced network cabling solution as compared to the lower categories (Cat5e, Cat6, and Cat6A), whilst, is also the most expensive. As it has a tougher form of shielding, it is very durable and can withstand higher cycles, thus has an overall longer cable lifespan in comparison with Cat5e and Cat6. It is the most suitable cable choice for future-proofing data centers and converged systems.
How expensive is Cat7 than Cat6?
Cat7 costs more than Cat6, as it delivers a higher bandwidth over a longer distance capability. In terms of cost, Cat7 cable costs an average of about $20 more than Cat6 - that is per 250m (820 ft) cable length.
Cost for installing Cat7 cables at home
If you are planning to install Ethernet Cat7 Cables in your house, it requires about 2000 ft of cable (about 1 box of OTSCABLES Cat7 Bulk Cable, which contains two 1000 ft Cat7 cables). That would cost about $48 to $49 more than the average price of Cat6 cables. If you choose to buy it in bulk at OTSCABLES, there's a bigger discount for this. It's not much of a cost if you would look upon it as Cat7 can definitely guarantee robust and more powerful network Ethernet solution for your house.