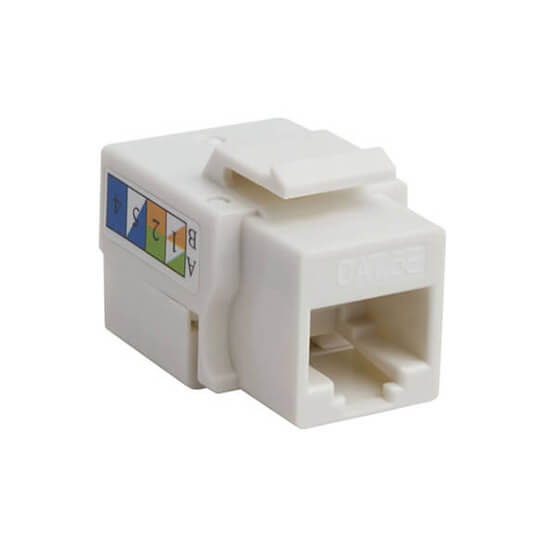 ---
Cat6 FTP Keystone Jack
---
Cat6 FTP Keystone Jack solid and reliable terminations for copper cabling featuring gold plated jack contacts. Terminators are compatible with 110 or Krone or for both punch down tool for different application. Supports 22AWG to 26AWG stranded or solid wire.
For use with a shielded network cable, ideal for ethernet fast ethernet and Gigabit Ethernet network applications Standard for different types of equipment installation.
---
---
Housing: PC(UL94V-0);ABS(UL94V-0);PC/ABS(UL94V-0)
IDC Hosing: PC(UL94V-0);PBT(UL94V-0)
Spring Wire: 0.45 dia phosphor bronze gold plating over nickel
T=0.35mm phosphor bronze alloy selective gold
IDC Contact : Phosphor bronze;Nickel plating
Shielding: T=0.25mm copper alloy with tin plated gold
Plating : 3u inch,6u inch,10u inch,15u inch,20u inch,30u inch,50u inch
---
Insertion Force: 2 pins 3.5N 4 pins 5N 6 pins 7.5N 8 pins 9 N
Retention Strength: 70N between jack and plaug;60N between wire and IDC
Durability: Jack 700 mating cycles mini; IDC contact 100 stripper cycles mini
Wire: AWG 24-26
---
Voltage Rating : AC 125V
Current Rating : 1.5 AMPS
Insulation Resistance: 500MΩ Min
Withstand Voltage: DC 1000V RMS 50-60Hz Min
Contact Resistange: 20MΩ Max

---
Send Us a Message
Welcome to contact us by fill the right contact form or write to us directly by the contact info below:
---
+86 (0) 755-23769401
---

---
Send us a message if you have any questions or request a quote. Our experts will give you a reply within 12 hours and help you select the right product you want.
---