Patch panel
---
Otscable is China-based network patch panel manufacturer, offer high quality Cat5, Cat6, Cable management and FTP patch panel. Leave us message if you need any assistance.
The most common question about network installation is,
"What is a patch panel used for?".
For one good reason
,
patch panels are used heavily in data centers, home network and offices as they are paramount in cable management and organization. These rack-mount equipment are affordable solutions for optimizing Ethernet usage and reducing unnecessary delays in information travel. If your company is up for a flawless and high-speed Ethernet delivery in your business,
OTSCABLE
offers a variety of high-quality patch panels instore for you!
What we Offer
OTSCABLE is a leading patch panel manufacturer and distributor in China offering low-cost equipment solutions for telecom, datacom, and other communication networking needs. We manufacture wall mount, rack mount fiber optic patch panels, blank patch panels in our own factory. Hence, it wouldn't hurt your expenses as these panels are offered at a very low cost but at premium quality. You can practically purchase bulk patch panels from us without worrying about high investment costs.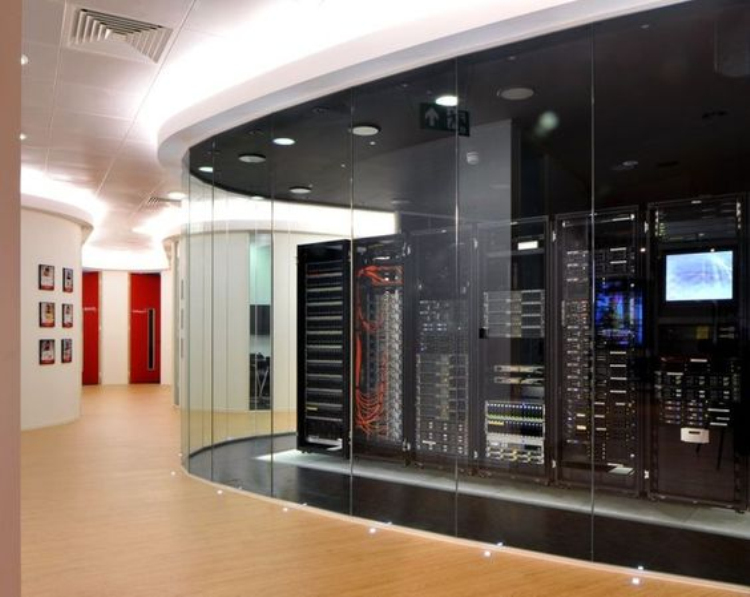 You can choose from a variety of Patch Panel options
Our company offers a variety of patch panel types and sizes such as
24-port
and
48-port
for small home applications to high-density data center set-ups. We also offer
feed-through
,
wall mount
,
punch down
and other
custom panel models
that would perfectly go with your network configuration. Aside from these, we have
fiber optic patch panels
for optic fiber cable installations.
Outstanding Features
At a glance, you will find our network patch panels the best in the market with the following features:
You can choose either standard-port or staggered-port design giving flexibility for your network installations to minimize ANEXT, delays and improve bandwidth performance.
Used in standard 19" racks but can be customized.
Innovatively designed with cable strain relief capabilities.
It can be equipped with either shielded or unshielded coupler to give an enhanced connector to jack signal integrity.
Couplers are rated to withstand at least 750 connector insertions ensuring the highest durability and connectivity.
Manufactured with high-quality cold-rolled steel, powder-coated finish providing robustness and style for any type of environment.
Features an area for labeling and port numbering for easy identification.
UL 94V-0 fire rated; ANSI/TIA/EIA.
For punch down, panels can be compatible with T568A or T568B punching sequence.
Combines cable manager to the patch panel enabling flexibility in cable connections.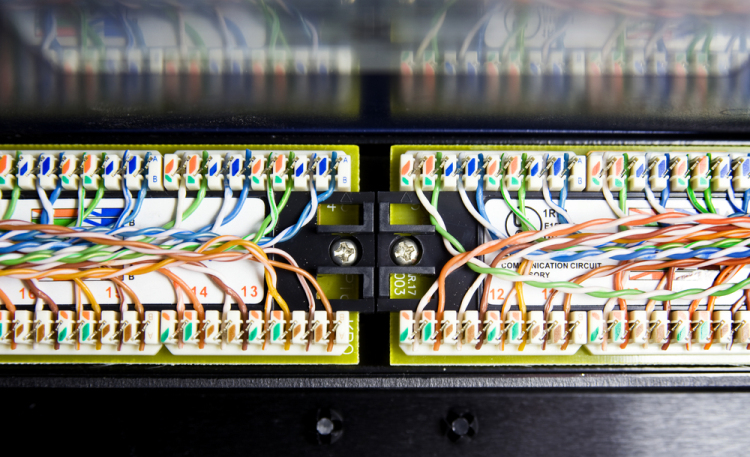 Cat5e Patch Panels
These are our affordable rackmount Cat5e unshielded patch panel models available with 24 port and 48 port, but can be allowed for port customizations. Suitable for providing Cat5e systems with 100Mhz frequencies and Fast Ethernet (10/100BASE-T) and Gigabit Ethernet (1000BASE-T), unshielded Cat5e patch panels is your best choice when price matters most.
24 port patch panel for Cat5e UTP
The
Cat5e 24-port patch panel
has label versions for easy naming of ports. It only weighs 534 grams and has a 482*43*33mm standard dimension. It conforms with the EIA 19" rack standard with extra optional bracket extenders. We also offer angled patch panels for facilitating optimum bend radius and eliminate the need for horizontal cable managers
48 port patch panel for Cat5e UTP
Each patch panel is made to accept 110-type termination following the Cat5e EIA/TIA TSB-40 network connection specifications. Physically, the panel is made of cold-rolled steel with 1.5mm thickness. At its rear is a color-coded diagram with EIA/TIA 568A & 568B specifications. The
Cat5e 48 port panel
supports a wider range of ports with clear numbering for easy identification.
Cat6 Patch Panel
The Cat6 unshielded patch panel models are our value-priced panels available with 24 port and 48 port but can be allowed for port customizations. Seamlessly supporting Cat6 Ethernet systems with 250Mhz frequencies and up to 1 Gbps speeds (10/100/1000 Base-T applications), unshielded Cat6 patch panels is your optimum choice for high-speed channel solution. The rear design features termination options for T568A or T568B wiring schemes.
24-Port Patch Panel Cat6 UTP
The
Cat6 24-port patch panel
has name identification areas for conveniently labeling ports. This panel weighs about 534 grams and has a 482*43*33mm standard dimension. Conformance with the EIA 19" rack standard enables easy integration of standard keystone jacks with extra optional bracket extenders.
48-Port Patch Panel Cat6 UTP 
Designed to mount any standard 19-in rack and cabinet, the
Cat6 48 port panel
accommodates 110-type termination with EIA/TIA specifications. This patch panel is made of cold-rolled steel with 1.5mm thickness and supports a wider range of ports with clear numbering for easy identification.
Blank Patch Panel
Blank Patch Panel is suitable for flexibly assigning individual ports with your choice of connector terminations. It is highly recommended for customizing network installations and can be used if you have special plans for network layout and configurations. Thus, our blank panels are meant for high-density applications with 24 1U or 48 2U ports and are completely compatible with our keystone jacks or any other standard jacks and standard couplers.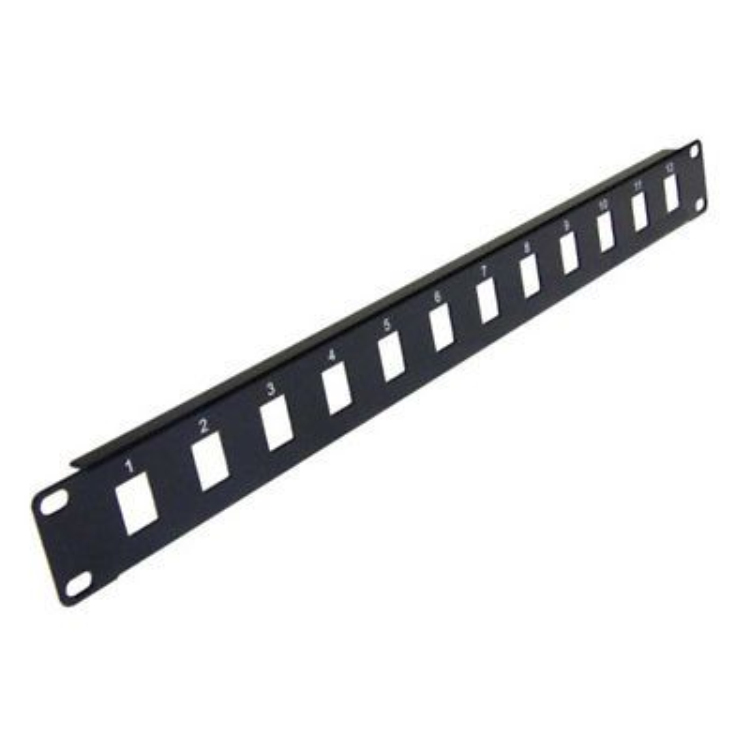 Cable Management Rack
Our
cable management rack
is a lightweight network solution designed with premium workmanship that can be easily installed and removed in cable systems. Standard cable managers can also be configured with up to 24 rings with 1.2mm thickness, but our company also caters custom-made cable manager requests from clients.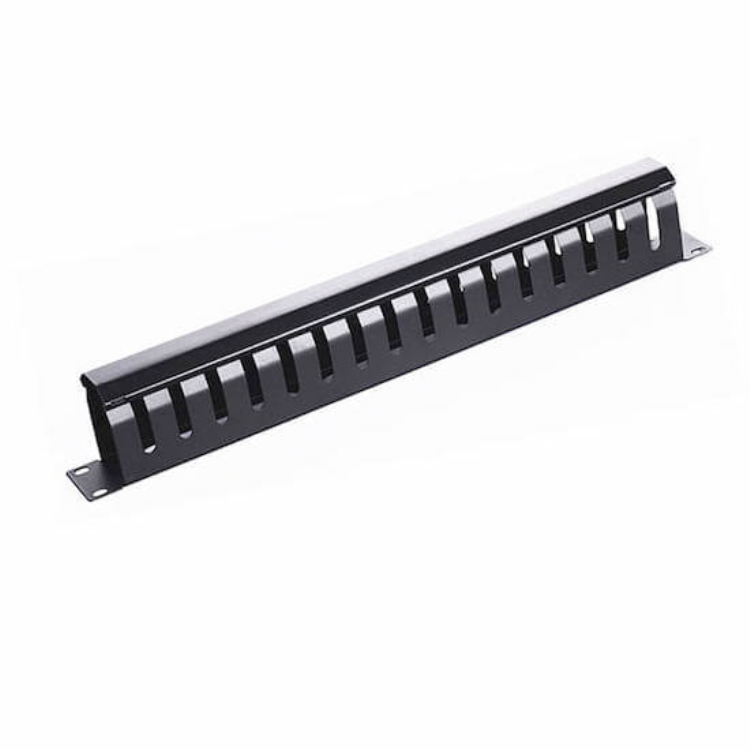 Shielded FTP Patch Panel
OTSCABLE's Shielded Ethernet patch panel is designed for shielded FTP copper cables such as Cat5e, Cat6 and Cat6A. You can use this for extremely noisy cabling environments where a high degree of EMI is present. We assure that each port is 100% verified and tested to deliver almost noise-free signals with NEXT elimination and optimum return loss (RL) performance. It accepts 22 to 26 AWG solid/stranded cables for standard EIA 19″ racks.
Fiber Optic Patch Panel
You may also want to take a look at our
fiber optic patch panels
. Integrating flexibility and density into our products' capabilities of exuding effective fiber cabling, OTSCABLE has been one of the most popular Fiber Optic Patch Panel Manufacturers in China.
Custom Patch Panel
OTSCABLE also allows fiber and copper patch panel customization based on your country's standards or company's requirements. You may also avail our OEM services to which you get to request the production volume you need to fill, patch panel specifications you want and many more. Contact us for more info.
Patch Panel Accessories
OTSCABLE has countless network communication products and options to enable clients to remaster their LAN architecture for fast Ethernet streaming and achieve gigabit potentials at the pleasing prices. You may opt for these patch panel accessories to complete your installation needs.
Applications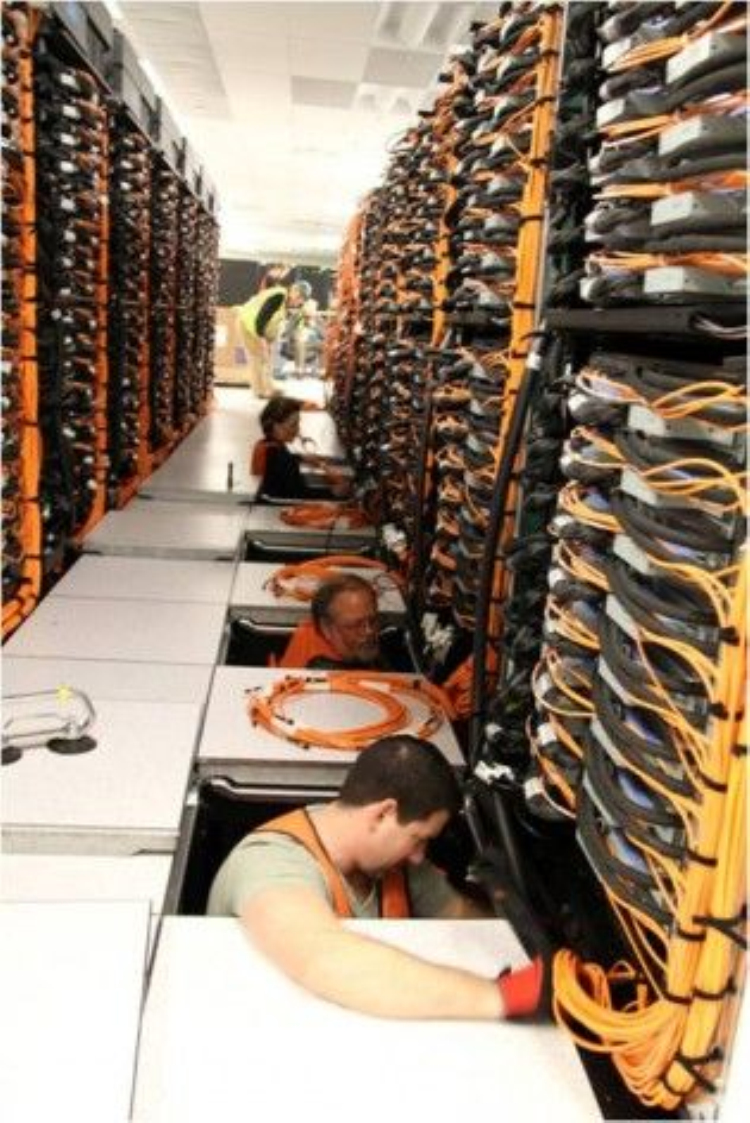 Telecommunications rooms, equipment rooms.
Data centers, central room, industrial facilities, etc.
Horizontal cabling or structured cabling transmission installations.
Any multi-user communication outlet
Any standard keystone jack specification
Creating an A/V cable patch layouts for home theater media, office, conference rooms, projector rooms, and general work areas.
Voice, data, audio, video, fiber optic installations.
How We Manufacture Patch Panels
OTSCABLE has an ISO9001 certified factory for network cabling needs with automated machinery. This gave us the advantage of designing, modifying and customizing patch panels for better Ethernet delivery and performance.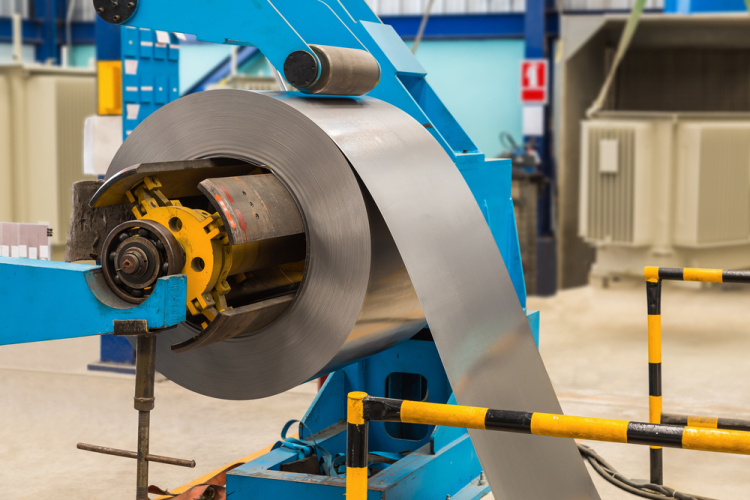 Otscable has a high degree of workmanship precision in making patch panels. We construct network patch panels using SPCC steel and do surface finishing methods before doing a series of quality tests. Dimensioning of panels is in conformance with 19" standard rack size used in network cabinets.
Surface Finishing
We produce high-quality patch panels that are both environmentally and decoratively pleasing to our customers. Refinement methods and surface finishing of the patch panels impart added durability for better performance, resistance to scratching and wear. We make use of powder coating methods, pickling, and phosphating for surface finishing. Color is usually black (RAL9005) for more professionality but you can choose other colors.
Quality Control
To ensure the highest quality, all raw materials are quality checked by QC experts. Each critical step of the production process is vehemently audited to ensure that we achieve the highest quality of products produced. We also have an advanced quality control system ensuring that patch panels and other network accessories are manufactured with consistency. Each of our network patch panels is made under strict compliance with ETL and UL listing. They also bear CE markings that meet ANSI/TIA-568 C.2 requirements. We also meet and exceed RoHS and LSZH standards and complying with environmental and international standards for the safe usage of consumers.
Our Advantages
Verified Compatibility with Standard Keystone Jacks and Standard Couplers
Our patch panels are manufactured with high compatibility with standard Ethernet keystone and other standard LAN protocols. This ensures that you can just plug-n-play them in any installations you are planning as long as its under EIA/TIA standards or you can ask us to customize the panels to go with other standards.
Premium Network Features and Solutions that Support Gigabit Transmissions and PoE+ Standards
OTSCABLE has a team of experts and skilled operators with trained workmanship to continually develop advanced network solutions for Ethernet connection. This is the only factory you can find that manufactures a complete set of the package for high-quality network cabling needs and accessories that meets modernized gigabit and PoE+ standards.
Well-Maintained and Innovative Machinery and Manufacturing Techniques for Producing Thousands of Production Demand
OTSCABLE is a carrier of high performing machinery for producing any network solutions including patch panels.
Customizable Patch Panel Production with Fast Lead Time
We guarantee expert production of data network accessories and solutions for both outdoor or indoor network installations. You can fully entrust your OEM needs to us to tailor your patch panel for you.
Understanding Patch Panels, FAQ's and Complete Installation Guide
For most people who do not know what a patch panel is, how they are used and what their benefits are in data networks, here is a quick cheat sheet for you to understand them better.
What is a patch panel?
A network patch panel is a rack-mountable housing that has ports reserved for RJ45 connectors or other connectors. This means that patch cables terminated with RJ45 connectors are connected to the patch panel ports to ports in network switches. This port setup is usually made permanent by IT guys so it would not be disrupted by
moving, adding and changing (MAC)
connections. Patch panels are often seen in many server rooms and computer network systems for LAN wiring. They can also be used as cable management equipment in recording stations, audio, and video (AV) rooms, radio and television rooms where cable entanglement can frequently occur. Patch panels are often installed in network racks, situated above or below switches.
Why do you need it?
Patch panels are used in copper cabling and fiber optic cabling solutions, hence are needed in almost all businesses which have network cabling installations. Without patch panels, cable management cannot be implemented, which leads to system downtimes and a lot of issues in data transfers.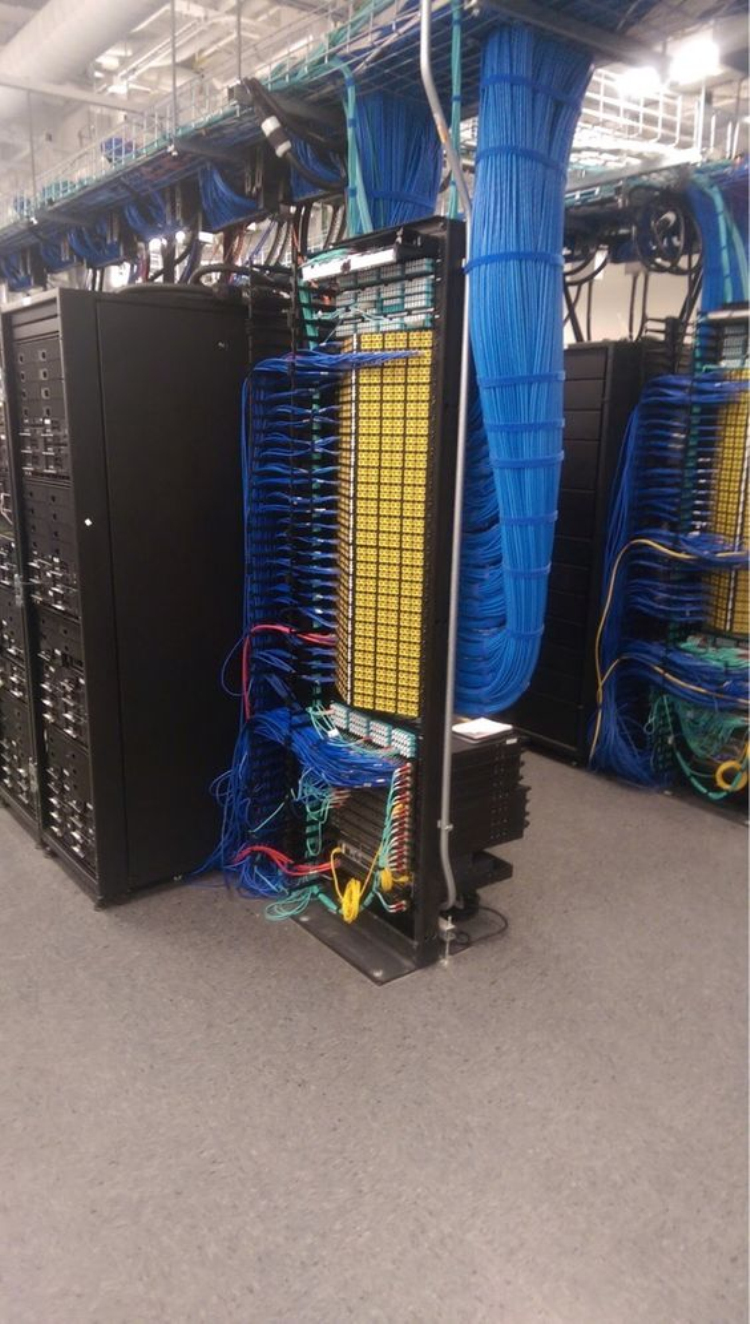 More specifically, patch panels are used in the following helpful ways:
It also enables flexibility for the installer to manipulate the cable arrangements or troubleshoot connectivity issues.
Proper labeling is permitted as patch panels have specific areas for port numbering and naming.
Mechanical strain relief is reduced when you punch down cables to these network patch panels. Cable strains are often caused by the pulling and entanglement of cables, and in effect, reduces its performance capability for transferring data. Hence, a patch panel allows the organization of cables to eliminate this issue.
Oftentimes, the cables installed at the rear of the patch panels support permanent jack layout.
What are some of the most requested patch panel types?
There are different patch panel types available in the market. Here is a quick list for you to know each.
Feed Through Patch Panel

This type of patch panel has ports on opposite sides of its body, making it easier for RJ45 patch cable installations. It's basically a coupler.   For practicality purposes, it is easier to purchase pre-terminated patch cables to fit in in feed-through patch panels than doing manual pre-terminations by yourself as it requires a lot of time and effort.   Feedthrough patch panels have a straight-through wiring configuration that enables more convenient installations that permits strain relief for cable conductors.

Patch Panel Punch Down

The cables need to be punched down when you use this type of network patch panel. Cables are terminated at the rear of the patch panel. Hence, it requires more effort and time to individually install cables than in feed-through patch panels.

Unloaded Patch Panel

With this type of patch panel, you can choose any type of keystone jack you need to install in each slot.   It's basically just a frame for accommodating different types of keystones or an enclosure for any standard jack. The unloaded patch panel can be used for installing HDMI, coaxial or fiber cables.

Wall Mount Patch Panel

The wall mount patch panel can be mounted on the wall or in any other place where there are space limitations.   It can also be used to mount cables on cabinets or under the floor. They are typically preferred if you want to opt for bulky rack installations.

Telco Patch Panels

Typically used for telephone or voice applications, the Telco patch panel has 25-pair (50-pin) connectors at the back of the panel.
How are rack spaces and sizes measured?
Network patch panels typically come in 1.75", 3.5" and 5.25" heights such as shown below.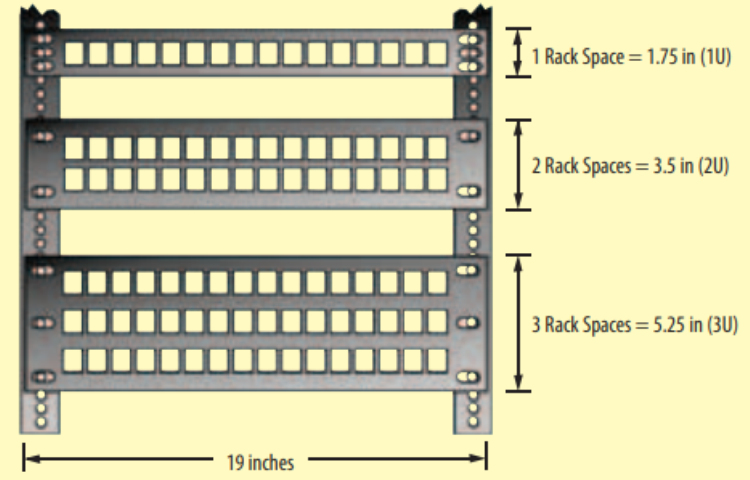 What is the difference between a switch and a patch panel
In data center connections, a patch panel and a network switch are two of the most common network components you will find. Many people are often confused with these two components as their exterior front form looks the same. But let us explain how they differ.
A patch panel is just a passive connector.
It is just a frame or housing - something that is completely passive. It contains rows of ports for accommodating cables for convenient cable management and organization. A patch panel is made to group several network ports in one location. This is to protect the cables from an entanglement that may cause technical issues in your network wiring.
A Switch is an active component.
A network switch also has rows of Ethernet ports, however, it is an active device that is designed to receive, process, and forward data to many devices (servers) and other Ethernet IP devices. Keep in mind that a network switch is needed in LAN whether there's a patch panel or not. Hope this helps. You may also watch this video to understand
what a patch panel is
,
do you need it
,
what are the benefits of patch panels
and
how you can set up a patch panel in your home or office
.
How to set up a patch panel and a switch?
Here are the steps on how to install a patch panel to a switch:
Locate the most appropriate area where you can install your patch panel and switch.
Position the equipment and components where they can be accessed easily.
Build or purchase pre-terminated patch cords
Measure the needed length for your patch cords. Make sure to get the have the right measurements as cables with excess length cause slack and will cause poor cable management.
Before installation, determine which switch port is connected to, as this will clear up the components being cluttered. With this, you can have installation in lesser time.
Mount the patch panel and switch
Mount the patch panel and switch. Make sure the server rack is appropriate to your components. Typically, the most common is the EIA standard 19" width.
Connect the patch panel to the switch
WIth the mapped-out components, you can then easily locate and patch the cables.
Place vertical or horizontal cable management next and utilize cable ties. Having an organized cable assembly allow for easier maintenance and upgrades.
As a final step to cable management, tag both ends of each cable the same color for easier troubleshooting.
How to punch down a network Ethernet patch panel?
Setting up the switch and patch panel is easy, but punching down a patch panel is quite tricky. When you choose a punch down patch panel (rather than the feedthrough), cables are needed to be terminated at the back of the panel to complete your installation. Here is a quick video on how to do it.
What to look for in Patch panels?
Look for pertinent features such as cable management capabilities, area for labeling and port numbering. Also, one of the most valuable advice from cable experts when buying patch panels is, first, to weigh out your
choice between its initial price and its cost of possible cabling network failure
. Some suppliers offer low-cost panels but the quality is compensated. Since patch panels are usually meant for permanent installations in structured cabling systems, you should go for manufacturers/suppliers with a proven record of supplying patch panels with ultimate usability and flexibility. With proven credibility such as from OTSCABLE, we can assure that you get your money's worth and more for each patch panel you buy.
Get in Touch with OTSCABLE
There's no doubt that high-quality patch panels are indispensable in keeping cable management abay. Highly organized cables are not only pleasing to the eyes but also reflects the capability of your network systems to perform at its highest potential with the greatest functionality. For the past 17 years, OTSCABLE has honed its factory capabilities in manufacturing and further developing patch panels for superior performance. Our company has understood what value is all about in delivering customers' network needs and has delivered top Ethernet products worldwide.
Contact OTSCABLE now
to request for samples, for quotations or for more information on how you can seamlessly manage and configure all your terminations with network patch panels.
Industries Solutions
---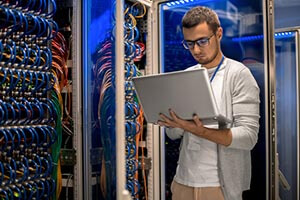 ---
Data Center Cabling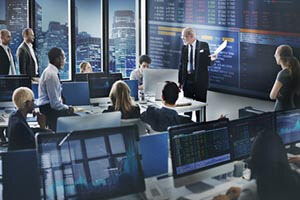 ---
Enterprise Networks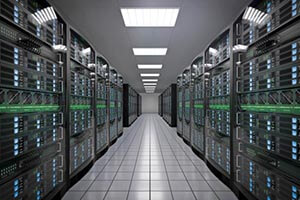 ---
Optical Cable OEM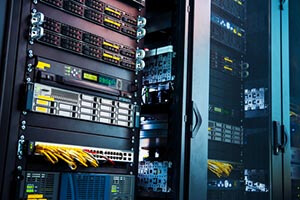 ---
Optical Transport
---
Send Us a Message
Welcome to contact us by fill the right contact form or write to us directly by the contact info below:
---
+86 (0) 755-23769401
---

---
Send us a message if you have any questions or request a quote. Our experts will give you a reply within 12 hours and help you select the right product you want.
---