Rj45 connector
---
Otscable is RJ45 connector manufacturer based in China, offer high quality rj45 connectors such as Cat5e UTP FTP, Cat6 UTP FTP connectors and plugs. Feel free to request a quote or leave us a message, out experts will be back to you within 8 hours.
Best Quality, China-priced RJ45 Ethernet Connectors for Cat5e and Cat6 LAN Connection
An RJ45 connector is a vital electronic industry component that is used to terminate the ends of stranded or solid cable. A high quality RJ45 modular connector is designed with premium quality gold plated pins in the range of 6 to 50u", with a staggered pin design to easily accommodate stranded/solid cable wires.
Cat5e/Cat6 RJ45 connectors are built to provide convenient crimping and installation and are the most viable components for transmitting high speed data for network and communication applications.
Minimize network transmission loss and reduce installation difficulty and costs with OTSCABLE's RJ45 modular connectors designed to be field-mountable and durable that answers all your LAN wiring issues.
What OTSCABLE Offers
OTSCABLE is an RJ45 connector manufacturer and supplier for bulk orders. We offer standard modular plugs manufactured in our factory in China, which comes in a low price per unit and high quality. Our RJ45 jacks follows an 8-pin/8-contact (8P8C) standard Ethernet plug configuration that is used in the majority of LAN networks.
At a glance, you'll find our RJ45 connectors for the most suitable data communication and LAN network applications.
Has pass-through function that allows quick settlement of wires in each slot before crimping.
You can conveniently use T568A or T568B wiring standard/Ethernet color code for terminations.
Accommodates both Solid or Stranded Cat5e and Cat6 rated cables.
Delivers superior performance connectivity with gold plated contacts, resists corrosion and can easily snap-in in laptops, DSL modem, broadband and other network cable connections.
Easy inspection of wiring order as you install them as the transparent plastic material allows light to make wires more visible.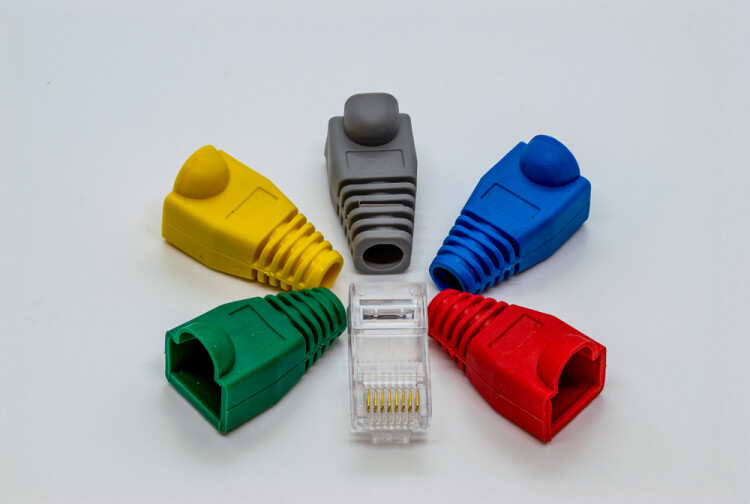 Cat5e UTP RJ45 Connector
Cat5e UTP RJ45 is our Ethernet standard cable connector for UTP networks with solid or stranded wires. These modular network plugs support reliable performance for Gigabit Ethernet with 24 to 26 AWG cable wires. You can make patch cables in no time with these connectors for its funnel-like configuration can easily accommodate all conductor wires.
Cat5e FTP RJ45 Connector
The foiled twisted pair (FTP) Cat5e RJ45 connector is the best fit for our Cat5e FTP cables delivering 100MHz for fast data transfers. Its modularity greatly improves signal transmission and ensure solid connection, eliminating frequency noise. You can use both stranded or solid wires for Cat5e terminations.
Cat6 UTP RJ45 Connector
This unshielded Cat6 RJ45 Connector is ideally terminated with Cat6 UTP cables. Where high performance data transmission is needed transmitting speeds of up to 1000 Mbps, you can use this Cat5e RJ45 connector.
Cat6 FTP RJ45 Connector
When installing network cables near high voltage equipment and in stringent applications such as in Military and armour devices, our Cat6 RJ45 connector is what you need. This shielded Cat6 Ethernet connector is ideal for Cat6 FTP cable termination. It can accommodate 250 Mhz frequencies at 1000 Mbps speed.
Features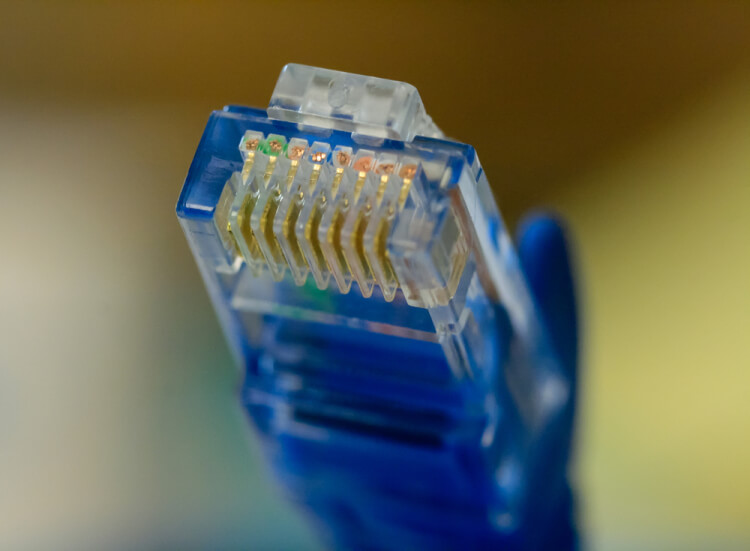 Easy disengaging, helpful in dense spaces
Maintains transmit/receive direction
Reliable optical contact
Improved signal integrity
Minimized transmission troubles
Improved durability and reduced effort for cross-connect rearrangement
Easy and faster installation for field-mountable connectors
Inhibit frequency noise
Compatible with most styles and models of RJ45 crimper tool
Accessories and Other Network Components
Aside from 8P8C connectors, we also have Cat5e and Cat6 solid and stranded cables. Our company manufactures bulk LAN cables and patch cables with strain reliefs and boots. And when you need to mount Ethernet cables in an easy snap-in method to a patch panel, surface mount box or wall plate, we offer our affordable bulk keystone jacks.
Applications
RJ45 connectors are ideal for all hard-wired Ethernet over twisted pair network connections achieving optimum network speeds of up to 10 Gbps. They can be used in the following.
PC's, switches, routers, MACs.
Computer peripherals, office and business device, home entertainment, computing and telecommunications and VOIP phones..
Heavy equipment, military, transportation, aerospace and broadcasting industries.
HDMI extenders.
Video Camera and IP Cameras.
Manufacturing Process and Technique
Our ISO9001 certified factory makes use of state-of-the-art machines, design modifications and proven manufacturing techniques to innovatively mass produce gold plated RJ45 connectors for faster Gigabit Data Transmission.
Physical
Otscable has a full line of automatic injection molding machines, electrical testing units and other equipment that fully enables us to work on modern innovations for RJ45 connectors. We design and manufacture cable heads, RJ45 plugs and inserts through our mold clamping and injection machine with a high degree of precision.
Each of our machines offer flexibility in production requirements and are programmable to meet and exceed standard requirements for modular connector production.
For gold-plating, our strict quality control specifications rules that proper gold plating thickness is followed (range of 6 to 50u") to ensure high reliability of data transfer.
Thus, whenever you require OEM services, we are capable of producing your demand at a very low cost.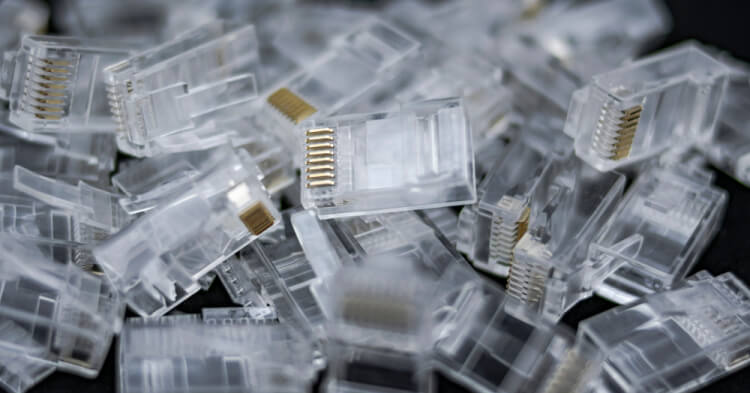 Circuitry
As there is the much needed requirement for RJ45 connectors to transmit high data speeds over copper cables in Ethernet wiring systems, Otscable has a proven method of minimizing network signal issues.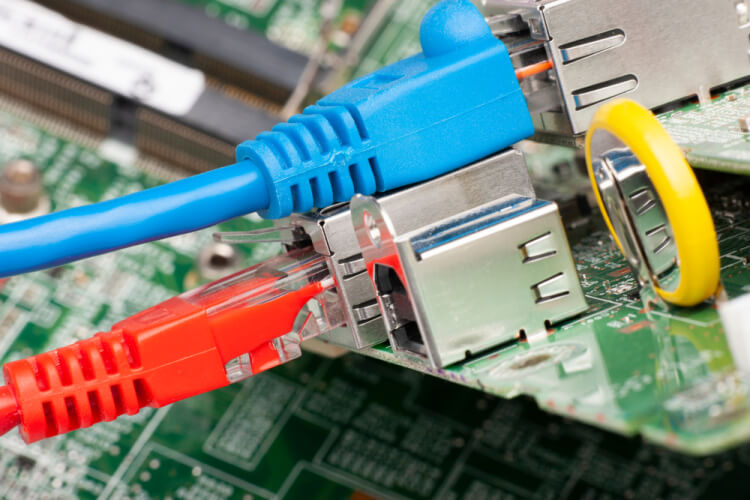 Generally, we strictly follow the circuitry to accommodate the standard RJ45 pinout diagram. Added to this, our company has developed a number of modernized methods for achieving high Gigabit demands. Thus, with the collective RF propagation methods done on the RJ45 connector interface, EMI/RFI interference issues are greatly minimized.
You can ensure that our RJ45 connectors can deliver signals at an enhanced level and shield effectiveness and crosstalk characteristics are improved.
Quality Control
All our RJ45 connectors are manufactured with compliance to ETL and UL listing, as we place a high priority to quality control. Our products are bearing CE markings; moreover, we also meet the compliance for the ANSI/TIA-568 C.2 requirements.
For manufacturing patch cables with RJ45 terminations, we make sure that each cable connection went through cable testers/fluke testing to verify the continuity of the cables.
Our connectors are made with non-toxic, dust-free, and reliable process, which meets RoHS and LSZH standards. We comply with stringent standards for environmental and international policies. Because we do not use solder, there is no lead (Pb) emissions during manufacturing.
Benefits
#1 Superb Compatibility and Flexibility
Our RJ45 connectors are highly compatible with solid and stranded cables. They are also designed and manufactured to work with RJ45 crimper tools and accommodate wires with 24 to 26 AWG.
#2 Modernized manufacturing techniques with newly-developed machineries
OTSCABLE has specialized manufacturing techniques for RJ45 connectors which guarantee more effective, reliable and better quality of products.
#3 We offer Tailor-Made Production with Fast Lead Time
We have gained expertise in producing all kinds of data network accessories and solutions for any type of application, whether outdoor or indoor. Our company has been a leading manufacturer of RJ45 connectors and other communication network solutions for over 17 years. Thus, you can fully entrust your OEM needs to us to tailor your RJ45 for you.
#4 We Deliver Excellent Network Solutions for High Speed Data Transmissions
We have an extensive R&D team and group of experts that continually strive in delivering up-to-date solutions for Ethernet connection.
Our RJ45 surpass PoE+ standards and most of our modular jacks are designed with impedance matching. With this, you can ensure that our network solutions, cables and accessories are effective in counteracting Near End Crosstalk and Far End Crosstalks.



FAQs about RJ45 Connectors
What is an RJ45 connector?
The "RJ" in RJ45 connectors stand for "registered jack". It is a standard twisted-pair plastic connector with an 8 position 8 contact (8P8C) configuration for Ethernet devices. In RJ45 connections, the "plug" is the male end of a connection, while the "jack" is the female connector. Modular connectors such as RJ45 are heavily used in wired Ethernet connections.
Each modular connector has 8 wires with different colors - 4 solid colors and 4 striped colors. There are two standard RJ45 pinouts defined by the TIA/EIA-568. These are T568A and T568B standards. Each standard has a color code diagram as enumerated below.
T568B

T568A

1 - white with orange stripe

2 - orange

3 - white with green stripe

4- blue

5- white with blue stripe

6- green

7- white with brown stripe

8 - brown

1 - white with green stripe

2 - green

3 - white with orange stripe

4- blue

5 - white with blue stripe

6 - orange

7 - white with brown stripe

8 - brown
What types of cabling commonly uses RJ45 connectors?
A type of cable called a "twisted-pair" of cable uses RJ45 connectors. This is commonly used in LAN wirings and telephone lines. This cable has four twisted pairs. The reason why the wires are twisted is to eliminate crosstalk and interference.
How many pin positions does an RJ45 plug have?
Each RJ45 connector has eight pins, which means that each LAN cable contains eight separate wires.
How do you wire an RJ45?
RJ45 connectors can be wired in two ways: straight through (EIA/TIA 568B) or crossover (EIA/TIA 568A).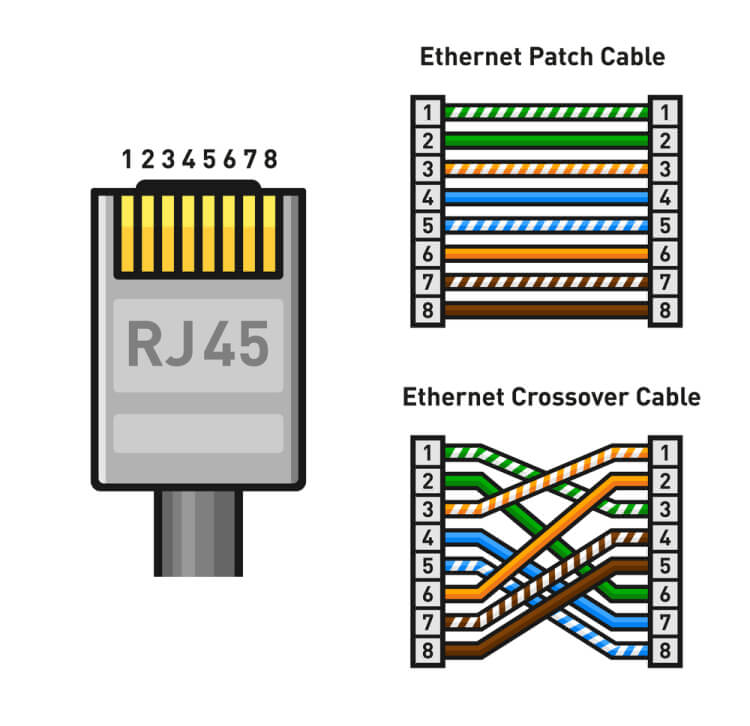 #1 Straight through RJ45 Pinout and wiring - EIA/TIA 568B Standard
This is the most common method of wiring RJ45 cables. As the name implies, each wire is run through a straight line before crimping with an RJ45 connector.
This configuration is typically used in 10Base-T and 100Base-Tx network hubs.
#2 The crossover RJ45 network cable, EIA/TIA 568A
Ethernet crossover RJ45 cables are used in small LAN network systems where only a limited number of computers are connected (for example, only two computers). This wiring system for RJ45 is also used when there are only two hubs are connected for increasing nodes in a network.
How to crimp an RJ45 for Cat5e and Cat6 according to the EIA/TIA 568B standard?
#1: Preparing a network cable
First is to slide the snagless boot on the cable. Strip off the cable jacket at about 1 inch from its end using a crimping tool.
#2: Follow the wiring diagram
Un-twist each 4 pairs of wires inside the cable by hand. Arrange the conductor wires according to the 568B standard.
*The RJ45 termination for Cat5 and Cat6 cables are the same but in some cases, Cat6 and above categories uses a load bar to efficiently separate each wire. The load bar aligns each wire with its designated pin. This way, crosstalk between the wires can be eliminated.
Step #3: Insert the wires in the RJ45 connector
Insert the wires according to its proper order inside the RJ45 connector. Make sure that the gold pins "bite" the wires.
Step #4: Crimp the Connector and Cable into Place
Crimp the cable and connector into place to secure the connection.
Here is a video on how to crimp an RJ45.
Get in Touch with OTSCABLE
During the past 17 years, OTSCABLE has honed its in-house factory capabilities in designing, manufacturing and serving customers worldwide. Our company has understood what value is all about in delivering customers' network needs and requirements. Contact OTSCABLE now to request for samples, for quotations or for more information about RJ45 connectors.
Christmas is around the corner and the best gift for any occasion is a Rubik's Cube that you can easily solve with this cube puzzle tutorial.
Industries Solutions
---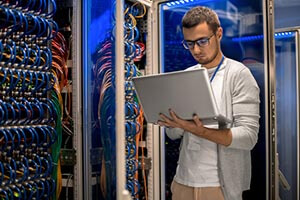 ---
Data Center Cabling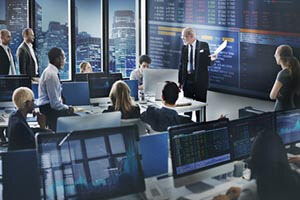 ---
Enterprise Networks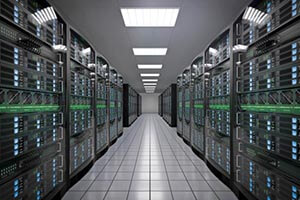 ---
Optical Cable OEM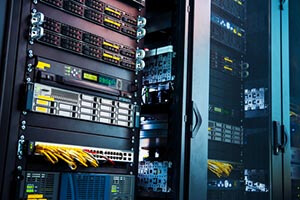 ---
Optical Transport
---
Send Us a Message
Welcome to contact us by fill the right contact form or write to us directly by the contact info below:
---
+86 (0) 755-23769401
---

---
Send us a message if you have any questions or request a quote. Our experts will give you a reply within 12 hours and help you select the right product you want.
---