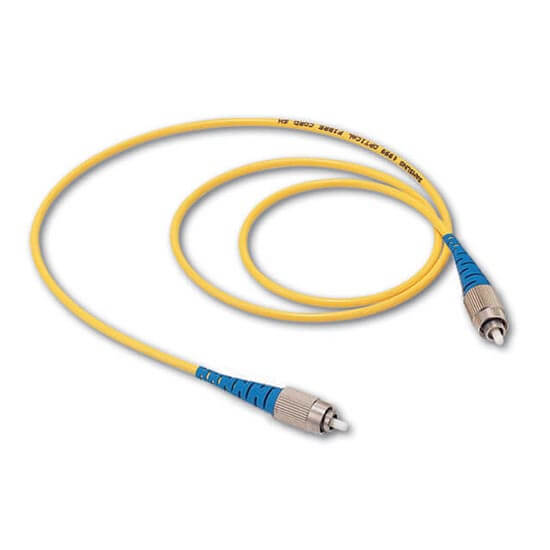 ---
FC-FC patch cord
---
Details
FC-FC fiber patch cord
A patch cord is a fiber optic cable used to attach one device to another for signal routing.
FC stands for Fixed Connection. It is fixed by way of a threaded barrel housing. FC connectors are generally constructed with a metal housing and are nickel-plated.
Features
Low insertion loss, high return loss
Excellent mechanical endurance
High credibility and stability
Good in repeatability and exchangeability
Application
Testing equipment
FTTX+LAN
Optical fiber CATV
Optical communication system
Telecommunication
---
---
Parameter
Unit
FC, SC, LC/ Armoured fiber patch cord
ST, MU
MT-RJ, MPO
E2000
SM
MM
SM
MM
SM
MM
SM
PC
UPC
APC
PC
PC
UPC
PC
PC
UPC
PC
PC
APC
Insertion loss(typical)
dB
≤0.3
≤0.2
≤0.3
≤0.2
≤0.3
≤0.2
≤0.2
≤0.3
≤0.2
≤0.2
≤0.3
≤0.3
Return loss
dB
≥45
≥50
≥60
≥30
≥45
≥50
≥30
≥45
≥50
≥35
≥55
≥75
Operating wavelength
nm
1310, 1510
1310, 1510
1310, 1510
1310, 1510
Exchangeability
dB
≤0.2
≤0.2
≤0.2
≤0.2
Vibration
dB
≤0.2
≤0.2
≤0.2
≤0.2
Operating temperature
℃
-40~75
-40~75
-40~75
-40~75
Storage temperature
℃
-45~85
-45~85
-45~85
-45~85
Cable diameter
mm
φ3.0, φ2.0, φ0.9
φ3.0, φ2.0, φ0.9
φ3.0, φ2.0, φ0.9
φ3.0, φ2.0, φ0.9
FC-FC Patch Cord
FC-FC fiber optic patch cord is one of the most popular connectors used in many network industries. FC is short for Fixed Connection, which is so named by its housing which nestles a fixed threaded cylindrical body.
Used in a Variety of Network Application
The most common choice of application of the FC-FC patch cord is in Video over Fiber Transmission Equipment. You can also use the FC-FC patch cord in many applications such as in data communications, telecommunications, measurement/test equipment, LAN cabinets and single-mode lasers. The FC connector itself is so defined under the IEC 61754-13 standard and also follows the Nippon Telephone and Telegraph (NTT) standard.
For Harsh Environments with High Vibrations
With FC-FC fiber optic terminations, your connected device or devices are protected under the harsh and extreme environment situations such as those with high vibrations.
Machined with Precise Tolerances for Successful Optical Data Delivery
FC-FC patch cords have strictly overdefined precise tolerances between the cable, the optical source, the emitter and the detector that ensures reliable data transfer in high speed fiber networks.
Singlemode or Multimode FC-FC, Riser or Plenum Rated
OTSCABLE supplies FC-FC fiber optic cable assemblies, with single mode (9/125) and multimode (50/125 and 62.5/125) options. You can choose if it's for riser application or plenum connections or if you want it to be completely customized, you can contact us to know more about our OEM/ODM service for FC-FC patch cords.
---
Send Us a Message
Welcome to contact us by fill the right contact form or write to us directly by the contact info below:
---
+86 (0) 755-23769401
---

---
Send us a message if you have any questions or request a quote. Our experts will give you a reply within 12 hours and help you select the right product you want.
---