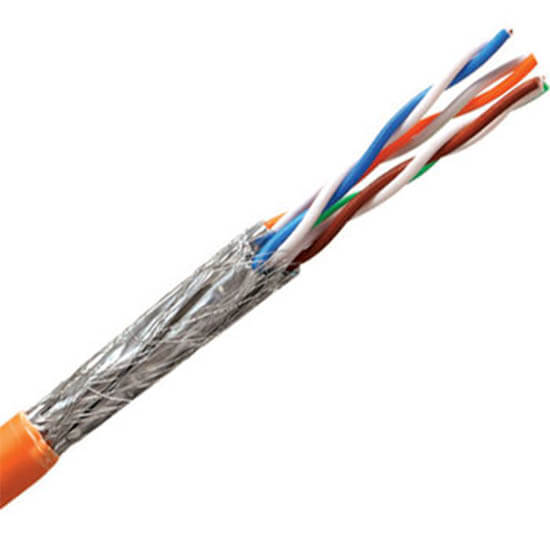 ---
Cat7 SFTP Bulk Cable
---
Cat7 SFTP Lan Cable is in 4-pair with conductors in 23AWG/1 /34AWG*7 pure copper conductor with insulation of Foamed polyolefin, every pair are shielded with Al-foil tape. grouped under metal wire braiding.
---
Key Data:
Cat7 SFTP Lan Cable is in 4-pair with conductors in 23AWG/1 /34AWG*7 pure copper conductor with insulation of Foamed polyolefin, every pair are shielded with Al-foil tape. grouped under metal wire braiding. Protected by a thermoplastic and non-flame propagating sheath colored according to customer's special request.
Cat7 cable is used for high speed transmission of voice and data between central and peripheral system for frequencies up to 600Mhz
---
Conductor
Solid Bare Copper
AWG
23
Conductor Diameter
0.583±0.02
Insulation
Foam-skin PE
Insulation average thickness
0.419mm
Jacket
PVC/LSZH
Sheat average thickness
0.05mm
Sheath diameter
7.4±0.3mm
Elongation
Min.100%
Tensile strength
Min.1.407 kg/mm2
Test
100% Fluke with Perm link
Rip cord
Yes
Core color
Blue/White-Blue
Orange/white-Orange
Green/White-Green
Brown/White-Brown
---
| Item No. | Packing Information |
| --- | --- |
| 1 | 100 mt/Reel |
| 2 | 305 mt/Reel |
| 3 | 500 mt/Reel (standard) |
| 4 | 1000 mt/Reel |
---
10Gbase-T Ethernet, 1000Base-Tx
Gigabit Ethernet, 10Base-T, 100Base-T Fast Ethernet
100VG-AnyLAN, 155/622 Mbps ATM, 550Mhz Broadband Video, Voice, T1, ISDN
---
Frequency
Attenuation
(db/100meters at 200C),Max
Next(dB), Min
Power Sun(dB)Min
1
2.0
80.0
77
4
3.7
80.0
77
10
5.9
80.0
77
16
7.4
80.0
77
20
8.3
80.0
77
31.25
10.4
80.0
77
62.5
14.9
75.5
72.5
100
19.0
72.4
69.4
155
24.0
69.5
66.5
200
27.5
67.9
64.9
300
34.2
65.2
62.2
600
50.1
60.7
57.7
---
Send Us a Message
Welcome to contact us by fill the right contact form or write to us directly by the contact info below:
---
+86 (0) 755-23769401
---

---
Send us a message if you have any questions or request a quote. Our experts will give you a reply within 12 hours and help you select the right product you want.
---
Cat7 Shielded and Foiled Twisted Pairs (SFTP) Bulk Cable, 23 AWG (0.57mm) 100% Bare Copper, UL, ETL Listed, RoHS Compliant
Cat7 SFTP bulk cable has an intense protection feature that shields individual wire pairs, as well as encloses cables with a foil as a whole. Because the most notable aspect of Cat7 SFTP is it covers the most versatile and latest wiring blueprint, it is highly recommended in converged networks and large data centers for future-proofing.
The conductors of Cat7 SFTP Ethernet cables are made from pure solid copper, flame-resistant and non-corrosive. Each conductor pairs are tightly twisted, snug and fit to deliver up to 10 Gigabit Ethernet over 100m of copper cable length without dropping out. Bandwidth capabilities also reach up to a good 600 MHz.
What We Offer
OTSCABLES, being your number one China supplier, manufacturer, OEM/ODM provider, offers bulk Cat7 SFTP cables. Having 17 years of experience serving industries with excellent high performing networking cables, we have established great communication and service with many countries across the globe. We are a China SFTP Cat7 cable manufacturer providing:
Factory direct sales
Direct shipping from our local warehouse
OEM and ODM supply of Cat7 SFTP cable
Where is Cat7 SFTP cable used for?
Where highest performance cables are required and where a high degree of shielding from EMI is needed such as in military devices and equipment, hospital or medical applications, heavy equipment machinery, generators, transformers
Ethernet 100Base-T4, 100 Base-TX, 100Base-VG-Anylan, 1000base-T and telephone communications media.
High Performance, Affordable Cat7 SFTP Bulk Stranded Indoor Ethernet Cable, 23 AWG Bare Copper CM
This cable is made up of 4 pairs of conductors of solid bare copper that are twisted together and insulated with a PE insulation. Cat7 SFTP CM rated is suitable for indoor installations in home and office networks. Our Cat7 SFTP Cable, Indoor Unshielded Stranded Ethernet cable can be used in making custom lengths Cat7 SFTP patch cable, as its stranded conductors are flexible enough to be bent for higher mating cycles.
Outdoor Shielded SFTP UV Resistant, 23 AWG Solid Copper Cat7 Ethernet Cable
Outdoor Bulk Cat7 SFTP Ethernet Cables are made for outdoor conditions. The 305 meters Cat7 SFTP Cable Rolls can be used in applications such as datacom, voice, ISDN, ATM155 and 622Mbps,100Mbps TPDDI, Fast and Gigabit Ethernet.
Since it is made for outdoor applications and intended to withstand outdoor conditions, we have coated the cables with a UV-resistant PVC Jacket that has a CMX rating.
100M (320 ft) Cat7 Bulk SFTP Installation Cable
For smaller installations, we have 100 meters Cat7 SFTP cable with high quality speeds and tested up to 600 MHz. This Cmx Rated Outdoor Cable is ideal for residential outdoor LAN applications.
305m (1000ft) Industry Standard Cat7 Bulk SFTP Cable Ideal Data Center Network Installations
We also carry the standard 305m Cat SFTP cable, CM, CMX rated, made for indoor and outdoor network solutions. Our 1000 ft industry standard Cat7 SFTP bulk cables, waterproof version is ideal for outdoor installations such as in direct-burial installations and aerial installations. Both indoor and outdoor Cat7 SFTP 305m cables are verified by UL and ETL and are RoHS compliant.
500m (1640ft)/1000m (3200ft) Cat7 Bulk SFTP Cable for Large-Scale Installations
Our CM, CMX rated 500m Cat6A SFTP cables and 1000m Cat6A SFTP cables are ideal for large installations. This can be between many buildings, many house networks or street Ethernet cables.
The Rubik's Cube solver can fix 2x2 cubes and Pyraminx puzzles too. Set the scrambled configuration and let the program find the solution in seconds.