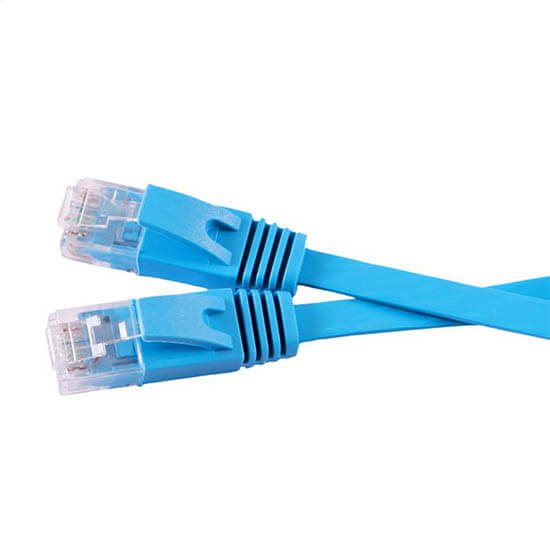 ---
Flat Patch Cable
---
Conductors: 24AWG or 26AWG stranded bare copper.
INsulation: polyolefin
Color code:
pair1: blue ,white/blue
pair2: orange,white/orange
pair3: Green,white/Green
pair4: Brown,white/brown

Ripcord: under jacket
Jacket: pvc or LSZH
Standards: UL444/CSA-C22.2 No 214,Type CM
EIA/TIA-568A and EIA/TIA-568B.2,Horizontal cable
Applications: internet,computer
UTP: unscreen cable
STP : single shielding Network cable ,Mylar tape,Aluminum-mylar tape and Drain wire
SFTP: Double shielding cable,Mylar tape,Aluminum-Mylar tape and drain wire and bare or tinned copper braid
Network cable Connector detail specification:
RJ45 8P8C nickel type
RJ45 8P8C golden type
---
---
ANSI/TIA/EIA-568-C.2
 T568A & T568B
ISO/IEC 11801
 8-position conductor/pair assignment (1-2/3-6/4-5/7-8)
Pair Identification
Pair1= Blue/White Pair2= Orange/White Pair3= Green/White Pair4= Brown/White
Transmission Performance
NSI/TIA-568-C.2  category 7 (1-750 MHz) specifications
Cordage
Constructor
 4 pairs, 7 strands,28 AWG, SFTP
Cable Type
SSTP Cat.7 Patch Cable
Outer Cable Diameter
 6.0mm ± 0.2 mm
Outer Jacket
PVC/LSZH Jacket
Plug
Type
Shielded RJ45 8P8C Modular Plug
Housing
 UL listed 94V-0/1/2 flame retardant polycarbonate
IDC blades
 phosphor bronze, gold plating over 100 μin of nickel in contact area
---
| | |
| --- | --- |
| Retention |  50 N (11 lbf) for 60±5 s |
| Mating cycle life |  min 750 cycles |
| Tensile strength |  ≥ 20 N per wire |
| Installation Temperature |  0°C to +60°C |
| Operating temperature |  -20°C to +60°C |
| Minimum bend radius |  4 outer cable diameters |
| Boot Type | Any type of the above picture |
| Length | 0.3m-30m or As per requested |
| Color | Grey/Green/Blue/White/Black/Red/Yellow |
| Package | polybag or Blister Package |
---
Send Us a Message
Welcome to contact us by fill the right contact form or write to us directly by the contact info below:
---
+86 (0) 755-23769401
---
---
Send us a message if you have any questions or request a quote. Our experts will give you a reply within 12 hours and help you select the right product you want.
---
Flat Patch Cable
For easier cabling installations and network runs in small and tight spaces
Where there are hussle and bussle of Ethernet cords in data networks, medical centers and home cabling does Flat Patch Cables ultimately saves the day. Flat Patch Cable Assemblies are perfect cabling solution for indoor environments where easy pulling of the cables are required.
What OTSCABLES Offer
Whether you are using Cat6 or Cat7 flat patch cable, you can make sure these can be easily installed in difficult places such as in data centers, home network installations, and gaming industries with cramped space limitations. Thus, OTSCABLES carry slim 24, 26 and 28-30 AWG Flat Patch cords that are highly robust and flexible, ensuring long equipment life by being tested to exceed mating cycle standards for Ethernet patch cables.
Slim, Stranded Flat Patch Cables
Our Flat Ethernet Patch cables are only 1.5mm thick, giving plenty of room for proper ventilation and air circulation. It is great advantage over normal cat patch cables for flexibility as they add more bulk to your workspace.
Built with Sound Flexibility to Withstand Repetitive Bending and Numerous Mating Cycles
Our Flat Cat6 and Flat Cat7 Ethernet Cables are composed of 4 pairs of stranded conductors, protected with special, flexible PVC jackets. RJ45 connector plugs (gold-plated) terminate the ends of the flat patch cord. Minimum mating cycles is as high as 750 cycles, ensuring longer cable life than other brands.
Your Ultimate Space-Saving Flat Patch Cable
OTSCABLES manufactures Cat6, Cat6A and Cat7 Flat Patch cables with an area of 15.84 sq. mm, with about 28% of space saved by each flat patch cable as compared with the traditional patch cable.
Features Numerous Network, Voice and Broadband Applications
Our Flat Patch Cords wiring conforms with TIA and EIA 568B standards and are used in many network, voice and broadband applications such as 10Base-T, 100Base-T, 1000Base-T, Fast Ethernet, Gigabit Ethernet.
These Premium Ethernet Flat Patch cables delivers high-data transfer rates and better network performance intended for hubs, switches, routers, network adapters, patch panels, DSL or cable modems, under-the-carpet installations wall outlet and other computer networking applications.
Offered in Multiple Cable Lengths at Affordable, China-Priced Deals
OTSCABLES offers a variety of cable lengths to choose from ranging from 0.3m (1FT) to 1m (3FT) and 1.5m (5FT), 2m (7FT), 3m (9FT) and 5m (15FT) cables - all of which are at a China-priced bargain.
We Carry Various Color Options
Different cable applications would oftentimes be easily distinguishable with different cable color schemes. OTSCABLES has a variety of flat patch cable colors that you can choose from, such as Gray, Black, Green, Blue, Red, Yellow, Orange, White, Purple and Pink.
Medical Applications
White cables presents the most optimum solutions for medical equipment as they camouflage into the commonly white paint of the medical decor. Thus, contaminants can be easily seen on the cable surface and can be easily maintained.
AV and Networking Runs
Black cables are optimum solutions for AV and networking runs as the black color easily hides into the shadows.
Flat Patch Cable Types
OTSCABLES offers a variety of options for flat patch cabling network solutions. We carry Stranded Premium Quality Copper Cat6 Flat Patch Cable, Ethernet Flat Cat6A Patch cable, and Gigabit Copper Cat7 Flat Patch Cords.
Molded Flat Cat6 Ethernet Patch Cable
OTSCABLES features snagless molded boot for Flat Cat6 Patch Cable with RJ45 termination at both ends. This slender patch cable has stranded bare copper wire, 32AWG, clothed with a PVC jacket. Our Cat6 flat patch cables are UL Listed, ETL Verified and RoHS Compliant.
Cat6 Flat Cable Accessories to Complete the Set of Cat6 Cable Assembly
We provide a variety of options for Cat6 modular plugs, Cat6 110 Block, Cat6 UTP keystone jacks, Cat6 UTP keystone jacks, Cat6 patch panels, Cat6 UK style faceplate, Cat6 Connection boxes/surface mount box and Crimping/Punch/Insertion/Stripping Tool for Cat6 termination.
Cat7 Ethernet Flat Patch Cable
In case you need Cat7 Flat Patch Cables for cramped installations, OTSCABLES provides snagless molded boot for Flat 23AWG Cat7 Patch Cable with RJ45 termination at both ends. It is composed of stranded bare copper wire and an outer jacket of PVC. Our Cat7 flat patch cables are UL Listed, ETL Verified and RoHS Compliant.
Frequently Asked Questions
Why are Flat Patch Cables Composed of Stranded Wires? What is the difference between Stranded and Solid Cables?
Whether it is Cat5e, Cat6, Cat6A or Cat7, it can be classified as solid or stranded.
What are Stranded Cables?
For stranded cables, they are made of conductors that are finely twisted together. They are built to be more flexible as each twisted wires tend to experience equal pressure when subjected to a force. Stranded cables are most commonly used as patch cables as these frequently experience bending and require higher cycles. As such, they carry the following characteristics:
Transmission distance is shorter.
Attenuation is higher.
Repetitive bending would not easily break the cable.
Cost may be relatively higher than solid cables
What are Solid Cables?
Solid cables is conveniently used in most backbone installations/horizontal cabling in ceilings, conduit, plenums, risers or walls. Flexibility is not much of a concern n backbone installations, but rather its ability to withstand conditions in these areas. Solid cables are made to be rigid as they are composed of conductors each with a single copper. As such, they carry the following characteristics:
Used to transmit network signals for long distances
Attenuation is lower
Built for rigidity
Lower Cost
As Flat Patch Cables are often used for cramped up spaces requiring flexibility, smaller stature and higher mating cycles than traditional patch cables and bulk cables, stranded wires are more appropriate to use for its construction.
Check out the Rubiks Cube Wiki to learn the solution of the Rubik's Cube and other twisty puzzles like Pyraminx, Square-1, Skewb etc.