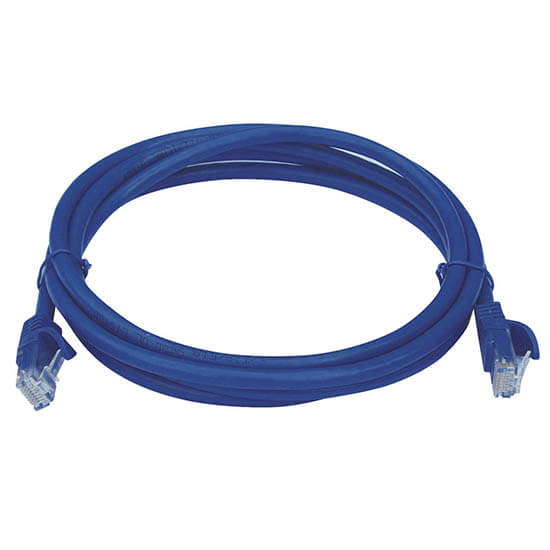 ---
Ultra Patch Cable
---
Conductors: 24AWG or 26AWG stranded bare copper.
INsulation: polyolefin
Color code:
pair1: blue ,white/blue
pair2: orange,white/orange
pair3: Green,white/Green
pair4: Brown,white/brown

Ripcord: under jacket
Jacket: pvc or LSZH
Standards: UL444/CSA-C22.2 No 214,Type CM
EIA/TIA-568A and EIA/TIA-568B.2,Horizontal cable
Applications: internet,computer
UTP: unscreen cable
STP : single shielding Network cable ,Mylar tape,Aluminum-mylar tape and Drain wire
SFTP: Double shielding cable,Mylar tape,Aluminum-Mylar tape and drain wire and bare or tinned copper braid
Network cable Connector detail specification:
RJ45 8P8C nickel type
RJ45 8P8C golden type
---
---
ANSI/TIA/EIA-568-C.2
 T568A & T568B
ISO/IEC 11801
 8-position conductor/pair assignment (1-2/3-6/4-5/7-8)
Pair Identification
Pair1= Blue/White Pair2= Orange/White Pair3= Green/White Pair4= Brown/White
Transmission Performance
NSI/TIA-568-C.2  category 7 (1-750 MHz) specifications
Cordage
Constructor
 4 pairs, 7 strands,28 AWG, SFTP
Cable Type
SSTP Cat.7 Patch Cable
Outer Cable Diameter
 6.0mm ± 0.2 mm
Outer Jacket
PVC/LSZH Jacket
Plug
Type
Shielded RJ45 8P8C Modular Plug
Housing
 UL listed 94V-0/1/2 flame retardant polycarbonate
IDC blades
 phosphor bronze, gold plating over 100 μin of nickel in contact area
---
| | |
| --- | --- |
| Retention |  50 N (11 lbf) for 60±5 s |
| Mating cycle life |  min 750 cycles |
| Tensile strength |  ≥ 20 N per wire |
| Installation Temperature |  0°C to +60°C |
| Operating temperature |  -20°C to +60°C |
| Minimum bend radius |  4 outer cable diameters |
| Boot Type | Any type of the above picture |
| Length | 0.3m-30m or As per requested |
| Color | Grey/Green/Blue/White/Black/Red/Yellow |
| Package | polybag or Blister Package |
---
Send Us a Message
Welcome to contact us by fill the right contact form or write to us directly by the contact info below:
---
+86 (0) 755-23769401
---

---
Send us a message if you have any questions or request a quote. Our experts will give you a reply within 12 hours and help you select the right product you want.
---
Ultra Patch Cable
Highlights light weight, flexible and easy-routing of Patch Cables with Reduced Cable Diameter and over 60% space-saved
If you are looking for compact, space-saving thin cables that can still deliver superior performance, try Ultra Patch Ethernet Cables. These cables are slimmer and ultra-compact cables meant to be less bulkier than traditional patch cords.
Ultra Patch Cables measure about 3.8mm in diameter as compared with 6.0mm patch cords, giving about 60-64% space saved. Consequently, Ultra thin Cat6 and Cat7 Patch cords weigh less than traditional patch cable counterparts.
That makes Ultra Patch Cables a lot easier to handle, maintain and manipulate in tight spaces. With its small cable stature, it also permits proper ventilation and airflow, prolonging the life of your cables.
What We Offer
OTSCABLES offers Ultra-slim Ethernet Network Patch Cable perfect for cramped up spaces and high density network applications. We offer Ultra Patch Cables with 26 AWG to 28 AWG stranded bare copper conductors providing 64% reduction in cable diameter in comparison with traditional network patch cables.
Thin Stature Supports Proper Ventilation in High Density Data Centers
Our Ultra Ethernet Patch cables are only 3.6 mm in diameter, giving plenty of room for proper ventilation and air circulation where high heat emission occurs between cables. It is great advantage over normal cat patch cables for flexibility as they add more bulk to your workspace. The reduction in diameter also permits smaller bend radius space requirement, that ensures easy-routing for good cable management.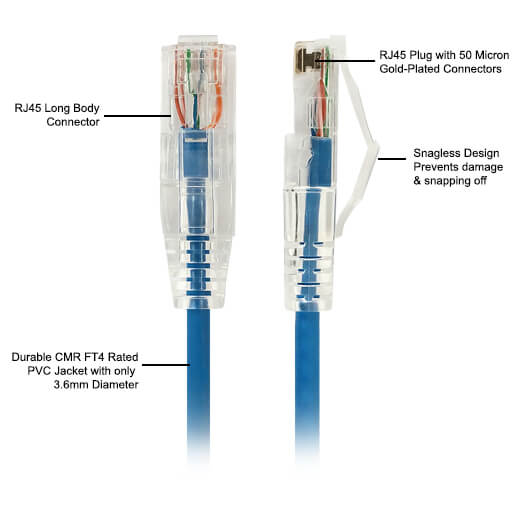 Quality-wise, High Performance for Large Data Network Applications
We offer ultra-slim patch cables that are designed for Fast Ethernet and Giga Ethernet networks. We carry options for applications requiring intensive bandwidth for voice, video and data distribution and traffic.
100% Pure Copper
Manufactured with high quality 100% bare copper cable, crosstalks (NEXT) are greatly minimized.
50 Micron Gold Plated RJ45 Connectors
Gold plated RJ45 Connectors terminate both ends of the Ultra Patch Cable, delivering the highest, most optimum conductivity, delivering perfect signal between connections.
Ruggedized Sheathing with PE Insulation, PVC Jacketing
We use Polyethylene (PE) as the main insulation of our Ultra-thin Ethernet Patch cables, grouped under polyester tape and aluminum foil. We also offer shielding for an enhanced protection over interference. We ensure high performance of our cables even when subjected to heavy-duty applications. Our cables are also jacketed with PVC and non-flame propagating sheath.
Features Numerous Network, Voice and Broadband Applications
Our Ultra Patch Cords wiring conforms with TIA and EIA 568B standards and are used in many network, voice and broadband applications such as 10Base-T, 100Base-T and 1000Base-T.
These Premium Ethernet Ultra Patch cables delivers high-data transfer rates and better network performance intended for hubs, switches, routers, network adapters, patch panels, DSL or cable modems, under-the-carpet installations wall outlet and other computer networking applications.
Designed with Different Color-Codes
Different cable applications would oftentimes be easily distinguishable with different cable color schemes. OTSCABLES has a variety of ultra patch cable colors that you can choose from, such as Gray, Black, Green, Blue, Red, Yellow, Orange, White, Purple and Pink.
Offered in Multiple Cable Lengths at Affordable, China-Priced Deals
OTSCABLES offers a variety of ultra patch cable lengths to choose from ranging from 0.3m (1FT) to 1m (3FT) and 1.5m (5FT), 2m (7FT), 3m (9FT) and 5m (15FT) cables - all of which are at a China-priced bargain.
Ultra Patch Cable Types
UTP Cat6 Ultra Thin Patch Cable
Our Cat6 Ultra thin cable is an RJ45 Cat6 10GB UTP Patch Ethernet cable that is slenderly made for compact spaces. Its ultra-thin cable design works perfectly in high density server room applications. It can be used for Ethernet network systems such as in switches, routers, and patch panels.
This premium 28 AWG Cat6 Ultra Patch Cable also allow smaller bend radius than traditional Cat6 cables.
Fluke Passed Super Slim Cat6A Patch Lead
We also carry high-grade network, ultra thin Cat6A patch cables. These cables are suitable for higher bandwidth than Cat6 of up to 500 Mhz at 100 m (328 FT) maximum distance. The Cat6A Ultra Patch cable is terminated at both ends with high-quality and durable RJ45 connectors. Furthermore, these Ethernet Ultra-Thin Cat6A patch cables have exceeded ROHS, ETL and UL standards. The sheath is LSZH compliant and flame-retardant for further protection.
CAT-7 10 Gigabit Ethernet Ultra Flat Patch Cable for Modem Router LAN Network
The Cat 7 Ultra thin patch cable provides more higher performance against crosstalk attenuation and is an entirely shielded patch cable, forming a drain wire, shielded twisted pair (SSTP) or shield-foiled twisted pair (SFTP) cabling base. It is optimum for usage in both Ethernet Gb and 10 Gb Ethernet networks.
Benefits of OTSCABLES Ultra Patch Cords
Superior space-saved up to 42%. Cable congestion is reduced in large datacenters.
Works perfectly well in high density server room applications.
Supports proper ventilation between cables promoting the longevity of life of cables and equipment.
Flexible and promotes easy routing for proper cable management.
Enhanced cooling performance in patch panels and switch racks.
Cost-efficient
Reduced crosstalks