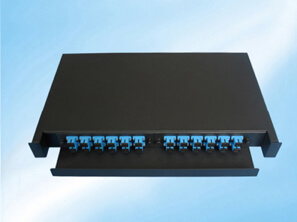 ---
ODF-RS24 Fiber patch panel ODF
---
Details
Slidable rack-mount fiber optic distribution frame is with the drawer for splicing, easy to withdraw the fibers when testing and distributing. It has aluminum sliding fittings with self-locking functions prevent the drawer from falling when moved.
ODF-RS24 is with 19-inch rack for ST, SC, LC, MTRJ, FC adapters and suitable for ribbon and single fibers. Its slide out drawer is for easy cable management.
Features
Dimension (cm): 45x 32x4.45
Height: 1U
Weight (kg): 4.2
Capacity: 24 cores
Compact design for space saving
Various panel plate to fit different adapter interface
Standard size, light weight and reasonable structure
Application
Telecommunications subscriber loop
Fiber to the home (FTTH)
LAN/WAN
CATV
---
---
Send Us a Message
Welcome to contact us by fill the right contact form or write to us directly by the contact info below:
---
+86 (0) 755-23769401
---

---
Send us a message if you have any questions or request a quote. Our experts will give you a reply within 12 hours and help you select the right product you want.
---