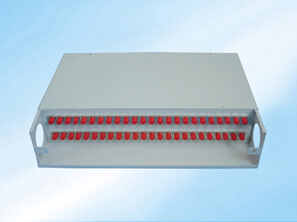 ---
ODF-RF48 Fiber patch panel ODF
---
Details
:
Fixed rack-mount fiber optic distribution frame holds up to 2 fusion splice trays and provides an economical way of splicing a small number of fiber cables in communication room or existing equipment racks where space is constrained.
ODF-RF48 is suitable for 19'' or 23'' standard optic distribution cabinets. Its front access panel design can make it operate easily.
Features
Dimension (cm): 49x30x8.9
Height: 2U
Weight (kg): 4.2
Capacity: 48 cores
Standard size, light weight and reasonable structure
Compact design for space saving
Various panel plate to fit different adapter interface
Application
Telecommunications subscriber loop
Fiber to the home (FTTH)
LAN/WAN
CATV
---
---
Send Us a Message
Welcome to contact us by fill the right contact form or write to us directly by the contact info below:
---
+86 (0) 755-23769401
---

---
Send us a message if you have any questions or request a quote. Our experts will give you a reply within 12 hours and help you select the right product you want.
---