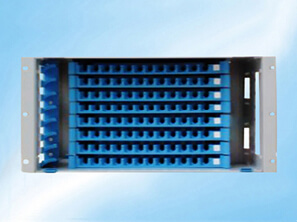 ---
ODF-R96 Fiber patch panel ODF
---
Rack-mount fiber optic distribution frame is modulized design with drawable trays inside and cold-rolled steel box. It could be pre-installed with various kinds of fiber optic adapters and pigtails.
ODF-R96 is with standard 19 inch size and properly designed to control the bend radius of the cable inside the enclosure to avoid extra optical loss. Its front mark on the plates is easy for identification and operation.
Features
Dimension (cm): 49x30.5x22.25
Height: 5U
Weight (kg): 11
Capacity: 96 cores
Drawable trays inside changeable
Various panel plates to fit different adapters interface
Standard size, can be used in 19'', 23'' standard distribution frame
Application
Telecommunications subscriber loop
Fiber to the home (FTTH)
LAN/WAN
CATV
---
---
Send Us a Message
Welcome to contact us by fill the right contact form or write to us directly by the contact info below:
---
+86 (0) 755-23769401
---

---
Send us a message if you have any questions or request a quote. Our experts will give you a reply within 12 hours and help you select the right product you want.
---