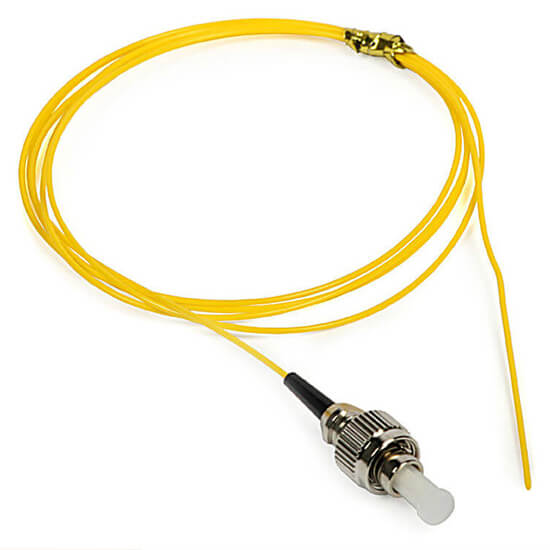 ---
Water-proof pigtail cable
---
Details
Fiber pigtail is a short optical fiber permanently attached to a source, detector, or other fiber optic device at one end and an optical connector at the other.
Water-proof fiber pigtail cable is a length of fiber with one-end connector attached, suitable for outdoor use and adverse environmental condition.
Features
Fiber core: 2, 4, 6, 8 optional
Waterproof features & reliable performance
Pull & erosion resistance, good grounding
Low insertion loss, high return loss, excellent exchangeability, high stability
The cable and pigtail is not moved when tighten the connection screw, which ensure the convenient construction.
Application
CATV & LAN
Data & Communication System
Connection for main fiber and optical receiver
---
---
Parameter
Unit
Waterproof fiber pigtail cable
SM
MM
PC
UPC
APC
PC
Insertion loss (typical)
dB
≤0.3
≤0.2
≤0.3
≤0.2
Return loss
dB
≥45
≥50
≥60
≥30
Operating wavelength
nm
1310, 1510
Exchangeability
dB
≤0.2
Vibration
dB
≤0.2
Operating temperature
℃
-40~75
Storage temperature
℃
-45~85
Cord diameter
mm
φ3.0,φ2.0,φ0.9
Fiber count
F
4, 6, 8, 12, 24, … fibers
Applicable connector
FC, SC, ST, MU, LC
Waterproof Pigtail Cable
Waterproof fiber optic pigtail cable is a patch cable suitable for outdoor use and adverse environmental conditions. It is a wet-proof cable covered with a highly robust rubber sheathing that prevents water from entering the cable.
Our waterproof pigtail cable is available with up to 6 cords in one source.
With Intensive Protection through Water-Resistant Sheath
We manufacture water-resistant cables with primary and secondary sheathing and armored outdoor PE jacket. Our Waterproof pigtail cables are ideal for outdoor FTTH, FTTP and FTTX applications where extensive protection is needed to deliver the optimum data transmission rate with high speed bandwidth.
With Durable Threaded Connector
Designed with a durable locking feature, the Waterproof pigtail cable is constructed with a rigid and anti-corrosive copper connector that cannot easily twist upon tightening the connection screw. It is built with enhanced durability that resists being strained during cabling installs and maintenance.
Cost Competitive
Our Waterproof Pigtail Cables are cheaply priced cables that delivers superb performance you're looking for in your fiber optic cable assembly.
---
Send Us a Message
Welcome to contact us by fill the right contact form or write to us directly by the contact info below:
---
+86 (0) 755-23769401
---

---
Send us a message if you have any questions or request a quote. Our experts will give you a reply within 12 hours and help you select the right product you want.
---