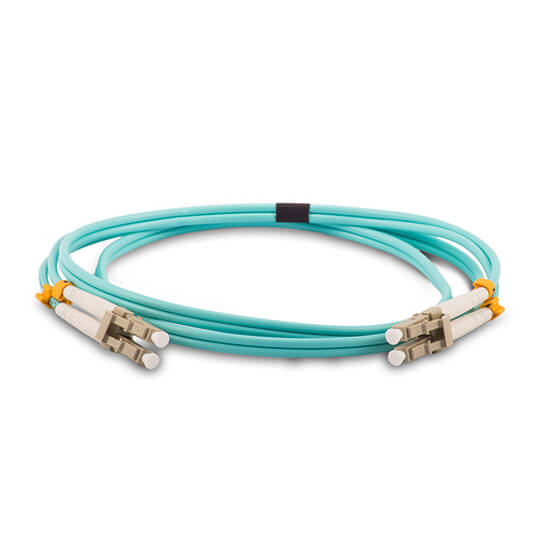 ---
OM3 patch cord
---
Details
OM3 fiber patch cord
A patch cord is a fiber optic cable used to attach one device to another for signal routing.
The OM3 50/125 multimode fiber optic cables compliant to ISO/IEC 11801 standards. They are used for 10Gbps networks to meet the requirement of continuous growing of high data rates.
Features
Low insertion loss and high return loss
Good exchangeability
Support 10 Gigabit data transmitting rates
MM cables type
FC, LC, SC, MU, ST, MTRJ, E2000, MPO… optional
Polishing: PC, UPC and APC
Meets IEC standard
Applications
Telecommunication networks
Fiber optic communication networks
CATV, LAN, MAN, WAN, Test &Measurement
Military industry
Optical access network
---
---
| | | |
| --- | --- | --- |
| Parameter | Unit | Standard & Requirement |
| Insertion loss | dB | ≤0.20 |
| Changeability | dB | ≤ 0.20dB |
| Radius of curvature | nm | 10 ≤ r ≥25 |
| Curvature eccentricity | um | <50 |
| Fiber core undercut | nm | <50 |
| Insertion loss change | dB | < 0.1 |
| Return loss change | dB | < 5 |
| Insert & pull out (Max.) | kg | 2 |
| Insert and pull frequency | Time | > 1000 |
| Operating temperature | ℃ | -40~+85 |
OM3 Patch Cord
The OM3 50/125 multimode fiber optic cables are used in providing bandwidth that transmit data above 10 Gb/s. OM3 50/125 are manufactured with compliance to ISO/IEC 11801 standards. They are used for the continuous expansion and development for high data transfer rates.
OM3 is known as a laser optimized multi-mode (LOMMF) cable that are made for 850 nm VCSELs. These cables are also designed for LEDs with modulation speed of 622 Mbit/s.
Your Fiber Optic Cable Solution for Bend Insensitive Applications
We manufacture robust and efficient OM3 50/125 multimode fiber optic cable that experience less to negligible attenuation when the cable is bent.
Space Saving OM3 Patch Cords
These multimode patch cords can also save you a lot of space in dense network cabling such as in data centers, telecommunication networks, datacom and networks with cloud storages. The OM3 cables meet RoHS requirements with LSZH flame retardant sheaths.
Built For High Speed Data Networks and Bandwidth Requirements
The 50/125 OM3 multimode fiber optic cable is built for bandwidth intensive applications such as 10G LRM, 10G SR and SFP+ transceivers.
Premium Performance and High Grade Fiber Optic Patch Cord
OM3 50/125 is a widely popular cable for high-end network cabling and are used in connections in data centers, CATV, fiber test equipment, LAN, telecommunication networks, FTTx, communication rooms, fiber optic communication system and defense or government applications.
Customized Cable Material and Length
OTSCABLE provides OEM/ODM service for OM3 50/125 multimode fiber optic cable assemblies. You can choose the jacket material (PE, PVC, OFNP), color, and length of the cable you need for customization. You can also request a riser-rated or plenum-rated cable.
---
Send Us a Message
Welcome to contact us by fill the right contact form or write to us directly by the contact info below:
---
+86 (0) 755-23769401
---

---
Send us a message if you have any questions or request a quote. Our experts will give you a reply within 12 hours and help you select the right product you want.
---