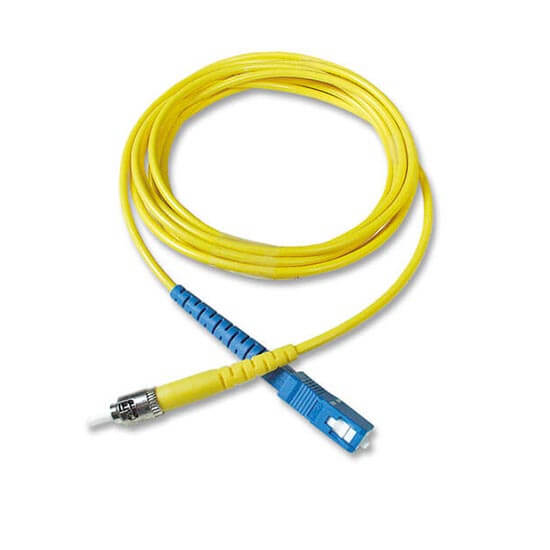 ---
Armoured patch cord
---
Details
A patch cord is a fiber optic cable used to attach one device to another for signal routing.
Armoured fiber optic patch cords are with stainless steel tube inside the outer jacket to protect the central unit of the cable. They are strong and flexible, can be bend randomly without being broken.
Features
:
Steel tape armoured inside outer jacket
Resist damage by improper twist
Resistance of pressure and rodent bite
Different fiber optic connector types optional
Low insertion loss
Custom cable lengths optional
Application
:
Testing equipment
FTTX+LAN
Optical fiber CATV
Optical communication system
Telecommunication
---
---
Parameter
Unit
FC, SC, LC/ Armoured fiber patch cord
ST, MU
MT-RJ, MPO
E2000
SM
MM
SM
MM
SM
MM
SM
PC
UPC
APC
PC
PC
UPC
PC
PC
UPC
PC
PC
APC
Insertion loss(typical)
dB
≤0.3
≤0.2
≤0.3
≤0.2
≤0.3
≤0.2
≤0.2
≤0.3
≤0.2
≤0.2
≤0.3
≤0.3
Return loss
dB
≥45
≥50
≥60
≥30
≥45
≥50
≥30
≥45
≥50
≥35
≥55
≥75
Operating wavelength
nm
1310, 1510
1310, 1510
1310, 1510
1310, 1510
Exchangeability
dB
≤0.2
≤0.2
≤0.2
≤0.2
Vibration
dB
≤0.2
≤0.2
≤0.2
≤0.2
Operating temperature
℃
-40~75
-40~75
-40~75
-40~75
Storage temperature
℃
-45~85
-45~85
-45~85
-45~85
Cable diameter
mm
φ3.0, φ2.0, φ0.9
φ3.0, φ2.0, φ0.9
φ3.0, φ2.0, φ0.9
φ3.0, φ2.0, φ0.9
Armored Patch Cord
Armored fiber optic cable is constructed with a metal armor that gives stronger protection for the optical fibers than traditional fiber optic cables. This enables the armored fiber optic cables to be installed in hazardous areas such as rat infested environments or where there is oil and moisture and excessive dust.
Our Armored patch cords are available for indoor and outdoor applications where extensive protection is needed to deliver the optimum data transmission rate with high speed bandwidth.
Provides Intensive Defense Against Indoor and Outdoor Harsh Environments
The Armored Fiber Optic Patch Cord has a stainless steel inside tube that provides the needed protection from extensive damage; be it from cable bites, physical cable injuries and harsh conditions. The metal enclosure is marked by its flexible feature that allows a minimum of 30mm bend radius.
Provides Low Insertion Loss and High Return Loss Resulting in Stable and High Speed Data Transmission
Defense and government network applications uses armored cables for hydrophones and seismic applications in underwater wirings. Our company provides armored fiber optic cords that are 100% optically inspected and tested that bring low insertion loss less than 0.02 dB, that can be used in wiring submarines, aircraft, and vehicles.
Structured with Robustness and Versatility
We use a structurally sound helical stainless steel tape draped over the optic fiber bundle to make sure the fibers are extremely protected. The fiber optic cable is then covered by aramid yarns with a mesh (stainless steel) before the outer jacket sheath.
---
Send Us a Message
Welcome to contact us by fill the right contact form or write to us directly by the contact info below:
---
+86 (0) 755-23769401
---

---
Send us a message if you have any questions or request a quote. Our experts will give you a reply within 12 hours and help you select the right product you want.
---