Where to buy quality bulk cables from reliable manufacturer, bulk Ethernet patch cords, bulk fiber optic cables, bulk network cables at low prices?
Are you looking for the best place to buy bulk Ethernet LAN cables? There are many cable manufacturers that cater to bulk network cable orders that also provide OEM/ODM services. If your aim is to source quality bulk Ethernet cables at reasonable prices, we have gathered a few trusted communications and networks cable manufacturing companies/suppliers/exporters for you to choose from.
Note that these companies are carefully researched and particularly hand-picked based on years of experience in providing network cables and solutions and OEM/ODM service coupled with how well they rank with customers and to what extent they handle deliveries and after-sales service.
#10 Cablesys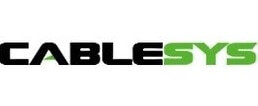 Cablesys is a network cable manufacturer based in California, USA. Their main products are wire, cable, and connectivity used in Data Centers. Cablesys has more than 22 years of experience in providing solutions for network systems.
There are a lot of good reviews for this bulk cable supplier and it is recommendable for micro- data center to a large-sized data center.

Major Market Served:
Product Range
Cablesys supplies bulk cables packaged in a pull-box using Reelex II patented technology. They also carry Ethernet patch cables, fiber patch cords, pre-terminated cabling systems and many more.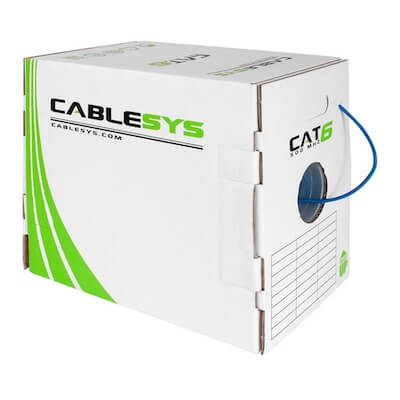 The company carries bulk Cat6 cables and bulk Cat5e cables with shielded and unshielded options, riser or plenum rated.
Key Features
The company produces bulk cables with solid conductors and 100% copper, as opposed to the low-quality copper clad aluminum. Since the bulk cable is packaged in a state-of-the-art pullbox technology, it can be conveniently dispensed from the inside-out in a figure-eight configuration. Plus, snags may be prevented as the carton does not contain a locking ring. 
Their solid bulk cables have been tested to exceed TIA industry performance standards. Moreover, they are UL listed for safety, ETL tested for performance, and RoHS compliant to be environmentally friendly. Cablesys also provides 15-year performance warranty.
---
#9 Shenzhen AMPXL Technology Co. Ltd 

Shenzhen AMPXL Technology Co. Ltd is a bulk cable manufacturer in Shenzhen, China. The company has over 27 years of experience in the supply and export of network cables. They have a modernized factory which has over 10,000 square meters of space. AMPXL also provides OEM/ODM and can offer to design the cable's structure, label, packaging and outer carton design upon request.
AMPXL Bulk cables are recommended for those looking for very cheap priced cables that but still has a huge amount of quality.

Major Markets Served:
Western Europe
Eastern Europe
Central/South America
Mid East/Africa
Australasia
Asia
Product Range
The company provides Cat5e/Cat6/Cat7 Bulk Ethernet Cables. They also have coaxial cables, LAN cable network accessories, CCTV cables, speaker cables and many more.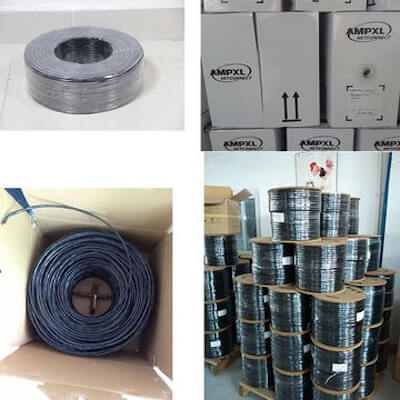 Key Features
The bulk cables are packed with 305 meters/roll/box. Inside packaging is through a pull-box. The bulk cables are backed with UL, CE, RoHS standards and certifications. To ensure high quality, the company also seeks a third party to perform quality control and analysis of the cables.
---
#8 Lorom Group

Lorom Industrial Co., Ltd. designs and manufactures standard and bespoke cables and is based in Taipei, Taiwan. The company has over 31 years in supplying bulk cables and manufacturing electrical equipment and supplies.
Lorom has a diverse portfolio of insulation materials, copper conductor choices, copper plating options, coating and jacketing material selection that you can choose from for customization. 
Since Lorom has a very wide variety of materials and they manufacture materials in their inhouse facility, you can choose this company as your bulk cable supplier if you want value customization of cables.

Product Range
Lorom provides bulk Cat5e UTP, FTP, SFTP, Cat6 UTP, FTP, SFTP, Cat6A FTP and Cat7 SFTP. They also have fiber optic assemblies, battery cable assemblies, flat panel displays and other electrical equipment and accessories.
Key Features
Their products are designed with accordance to ISO and EIA/TIA standards. Applications include 10GBase-T and 10 Gigabit Ethernet. The bulk cables are also backed by UL/CSA Safety Certifications, UL/ETL Performance Verified to ANSI/TIA 568C.2. 
Options are also available for foil screening or FTP cables, blade style molded strain relief boot clip protector, choice of length and color may also vary.
---
#7 C2G
C2G is a preferred manufacturer of bulk LAN cables and high performance connectivity solutions. The company has over 35 years of experience providing end-to-end connectivity solutions. Cables-to-go have served a variety of markets that include corporate, digital signage, education, healthcare, home theater, and hospitality. 
C2G is one of the most reputable network cable companies that many customers rave for. They have a very good after-sales service with fast and easy transaction with customers. They also carry one of the best and high-quality Ethernet cables in the market.

Product Range
C2G has joined with Data Communications in Legrand in 2014 that brought a diverse set of network products such as Audio/Video & PC, Data Connectivity, Physical Infrastructure, and Power Management. 
Key Features
C2G offers bulk cables that have passed international standards and are UL, ETL, LSZH, CE and RoHS compliant. They offer a variety of cable options such as stranded or solid cables; CM, CPM and CR standards; shielded or unshielded options.
---
#6 General Cable
General Cable is a company based in Highland Heights, Kentucky, USA. They have several offices and manufacturing plants in many countries. General Cable manufactures and supplies bulk copper cables , aluminum, and optical fiber cables. The cables are mostly used for energy, construction, industrial, specialty and communications sectors.

Product range
General Cable provides copper ethernet bulk cables, cable assemblies and system solutions. They also carry fiber optic submarine communications cables, fiber aerial and underground cables. The company provides broadcast, professional and commercial A/V cables, electronic cable, premise data communications cable and telecommunication cables.
#5 Otscable

Otscable is a China-based bulk cable manufacturer. The company is not a budding network manufacturer. In fact, their growing expertise in manufacturing and exporting network and communication cables has been around for 17 years and counting. Otscable also provides OEM/ODM service. 
You would want to choose Otscable if you want premium grade cables that go with reasonable prices. What customers love about Otscable is the support they provide during and after bulk cable installations. They also have a great after-sales service.

Product Range
Otscable makes almost all varieties of cable products for any burgeoning field. The company makes and markets performance grade bulk Cat5e, Cat6, Cat7, Cat8 and outdoor bulk ethernet cables that includes unshielded (UTP) and shielded (STP) configurations. You can find the best bulk deals for any network and communication cables from Ethernet cables and other electronic wires to plenum cables, riser cables, fiber optic cables and many more.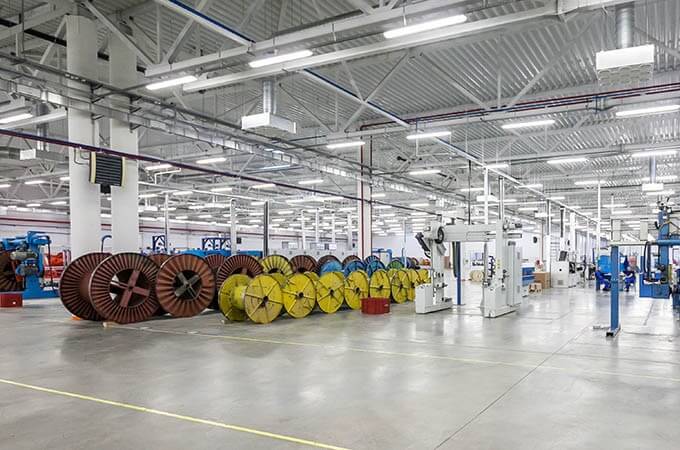 Key Features
Otscable offers In-wall, CM Rated or CMR Rated, Plenum, CMP Rated bulk network cables that are perfect for creating patch cables. The bulk cables are compliant with UL, CE and EIA and TIA standards. They use 100% pure copper wires as conductors, HD polyolefin insulation. Some cables are grouped with drain wire making it structurally stable and protected. Also, the sheath is non-flammable and colored according to customer's request.
#4 Blackbox

Black box is one of the most popular bulk network cable providers in the US. They are a globally-acclaimed provider of IT infrastructure solutions. The company has a reliable history and record of providing high-quality bulk cables for many countries. They have a diverse company sectors that support design, R&D and manufacture of network supplies.

Product Range
Black box offers a wide range of products for network and IT infrastructures such as cabinets, racks, enclosures, cables, pre-terminated fiber and patch cords, jacks, panels, digital signage, power solutions, tester and tools and many more.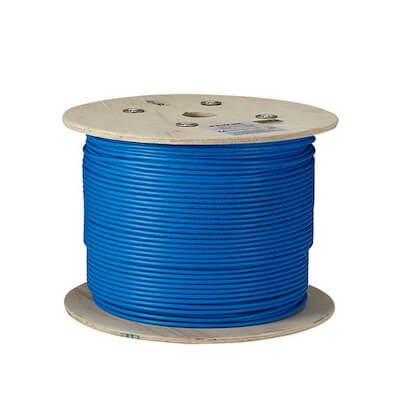 Key Features
Black box offers industry standard solid bulk cables and network cabling accessories. They have shielded and unshielded, solid and stranded Ethernet cables. You can also choose from numerous options for insulation, jacketing and conductor material.
#3 Belden

Belden Incorporated is an American network cable and solutions manufacturer that includes bulk network cables, connectivity, and cable accessories. It is one of the most prominent network cable manufacturing companies. The company designs, manufactures, and markets signal transmission products for demanding applications. 

Product Range
Belden's products are one of the sought after products that serve many applications and industries for many years. Their bulk network cables are used in industrial, enterprise, and broadcast markets. They also have industrial Ethernet cables and accessories, VFD cables, fiber optic cables and many more.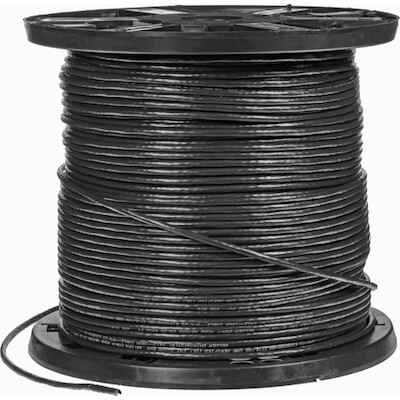 Key Features
Belden carries a unique set of innovative network technology such as the REVConnect. This jack improves the deployment logistics and allows contractors to stay on budget. They also have the 10GXS Cable which supports PoE Type 1 (15W), Type 2 (30W), Type 3 (60W) and Type 4 (100W). The company also offers 25-year warranty on parts and labor and a lifetime application assurance.
#2 Mohawk

Mohawk is also one of the best cable manufacturers. The company provides the combination of cable products with many leading industry connectivity products. They provide the end-user with all the test results to show that the installed system meets or exceeds the latest ANSI/TIA-568-C standard, as well as ETL and UL specifications. Mohawk is an ISO 9001 compliant company, adhering to its quality standards. 

Product Range
Mohawk offers bulk Category 6A through bulk Category 3 which are ETL verified copper products. They also have Fiber optic cable and A/V cables.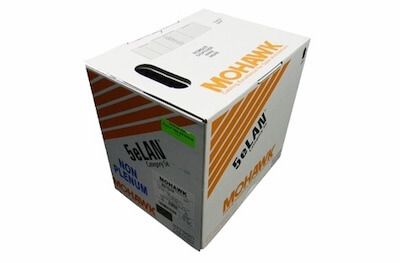 Key Features
The cables have including high pair count. We provide industry leading UTP and F/UTP designs for high-speed LAN applications, including Gigabit Ethernet. All of our copper cables are third-party verified for performance and safety. 
Applications of bulk cables can be for 10 Gigabit Ethernet, 10GBASE-T, Gigabit Ethernet, 1000BASE-T, IEEE 802.3af Power Over Ethernet for VoIP, 100 Mbps Fast Ethernet. The cables are also covered with a 25-year warranty under their MAC program.
#1 Bertek - Nexans

Berk-Tek manufactures all the latest category cabling with product offerings ranging from Category 6A to Category 5e and everything in between. The company has an outstanding record in network cabling and solutions worldwide. 
Berk-Tek product, process and manufacturing engineers are backed by an array of researchers and engineers within the Nexans R&D network. This means that they deliver products that are of high quality.

Product Range
Berk-Tek offers custom length Ethernet (LAN) cable, bulk cables, direct burial cables, Cat5e, Cat6, Cat6A, Cat7/Cat7A, Cat8 bulk and patch cords. They also have telecom products, patch panels, LAN stations and many more.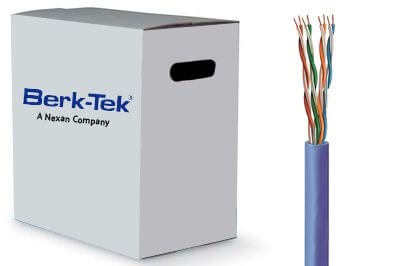 Key Features
Berk-Tek offers a complete array of UTP, FTP and coxial copper cabling products. The Berk-Tek bulk cables are ANSI/TIA/EIA verified cable. Their bulk Cat6A is constructed without the center spline for easy installation and termination.Applications include 1000BASE-T. 
The Verdict
Great quality and affordable price are two of the most sought factors in choosing bulk cable manufacturers. There are a lot of cable manufacturers that are offering the best products in the market. Some can be trusted, while others seem to be too good to be true. How can you know? 
Through this article, we've summarized the ones that are top customer picks from a bunch of forums and customer reviews and their years of experience in network cabling systems. We hope you were able to choose from the list above.
REFERENCES:
Forums:
https://arstechnica.com/civis/viewtopic.php?t=444675
https://community.spiceworks.com/topic/320576-differences-in-bulk-cable
Reviews:
https://www.digitaltrends.com/computing/best-ethernet-cables/
https://www.amazon.com/7525751-General-Aluminum-Outside-Telephone/product-reviews/B0076AZ1EC
https://www.trustpilot.com/review/www.cablestogo.com